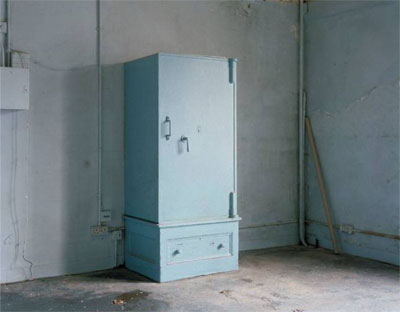 © Peter Marlow / Magnum Photos.
Expositions du 24/5/2011 au 2/7/2011 Terminé
The Wapping Project Bankside 37 Dover Street, Ely House W1S 4NJ London Royaume-Uni Peter Marlow is a Magnum photographer, joining the agency in 1980. One of the pre-eminent British photojournalists of his generation, Marlow has developed a parallel body of work over the course of twenty years. Point of Interest is a rigorous edit from several thousand images taken down to twenty seven colour works and ten small black and white prints.
This body of work has been made alongside major projects and is an oblique look at the world which never made it into his photojournalistic images. It is photojournalism turned inside out, where the geography of where he is in the world, and the narrative context, becomes an irrelevant and unnecessary detail The title Point of Interest is surely ironic– these images capture the overlooked, the abandoned, the derelict and the detritus of contemporary life and would rarely be the focus or centre of anyone's point of interest. It is Marlow who places them centre stage in a sequence of masterly but disturbing photographs. Masterly because one could not imagine the framing to be bettered, disturbing because this is an apocalyptic vision – no people, no emotion, no sentiment, but a factual record of something left behind. Marlow's work has tension built within each image. A crashed car, one only, no passengers, no victim, no perpetrator. There is, however, a strong narrative drive– one imposed by the viewer in a struggle to come to terms with where the camera points, at what and why... This forensic eye was in evidence in early exhibitions such as London by Night first staged at The Photographer's Gallery in 1981 and shown as a series of vintage prints in 2009 at The Wapping Project Bankside.
There is a sense of continuity in an obsessive re-visiting of subject matter and tone but something quite new in his approach to colour that has a distinctive voice and signature. The ten small black and white prints included in Point of Interest constitute an album of fragmentary landscapes, made in square format, each image exploring an undramatic space between events. These empty moments, shot at airports, motorways and factories, on city streets and in suburban homes, give some clues as to how the colour work evolved. The colour of incidental things became more central to Marlow's work just as their shape and mark was to his black and white work.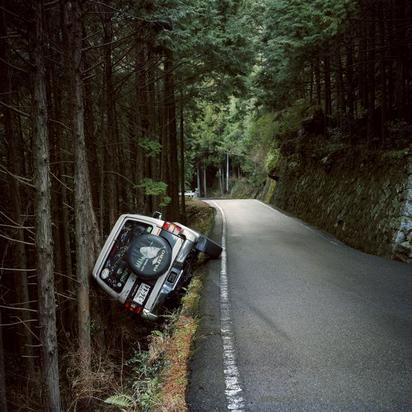 © Peter Marlow / Magnum Photos.
Marlow's most startling images involve an absorption in peripheral detail and a take on the landscape that we can recognise, and identify with, but can't quite put our finger on. He is an observer of the video monitored places in which we work, travel and wait: non-places, of transit, approach roads and places at the edge. This work, shown for the first time has a febrile darkness and sense of foreboding, leaving room for the night time corners of the viewer's imagination, but paradoxically possessing a calm beauty.
Vignette : Peter Marlow / Point of interest.