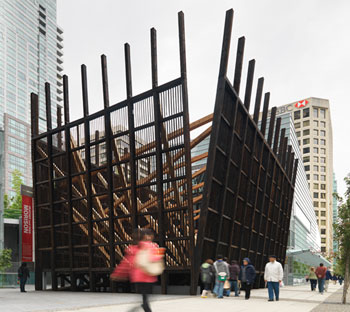 Expositions du 2/9/2010 au 1/5/2011 Terminé
Vancouver Art Gallery 750 Hornby Street V6Z2H7 Vancouver Canada Offsite is the Vancouver Art Gallery's outdoor exhibition space in the heart of urban Vancouver that offers a rotating program of innovative public art projects. Launched in July 2009 with the photo-based work of O Zhang and followed in January 2010 with a sculptural installation by Ken Lum, Offsite: Heather and Ivan Morison is the third project in the series.?

Heather and Ivan Morison explore architecture as it relates to ideas of escape, shelter and refuge. A site-specific project designed for Offsite, Plaza hovers between sculpture and architecture. Rising nearly three stories high, the walls of the pavilion lean outwards towards the street as if they have been torqued in all directions by an extraordinary force. The interior platform is raised above the water, propped up by crossing diagonal supports. The roof is open to the sky. The walls are made of heavy timber beams, burnt to a dark charcoal using a Japanese technique for preserving and protecting wood from the elements called shou-sugi-ban. Visitors can enter the space, and in so doin g, become part of the artwork.?

Plaza mimics the most prosaic form of the urban built environment—the gridded box—and forcefully twists it by a mere 8-degree shift, enough for its walls to seem on the verge of collapse. The warping is, however, halted at a precise point, suspending the structure in a play of distortions and perceived imbalances, where it appears to be carefully held in balance between falling and flight, weight and levity, solidity and transparency. Plaza evokes a pivotal moment of architectural and societal transformation and metaphorically suggests that the mechanisms which underpin the modern city are far more fragile than we imagine. Its burnt surface and collapsing form infer a cautionary tale for the future, as well as an invocation to transform the modern city.

Similar to other large scale projects by Heather and Ivan Morison, the construction of the work was part of a broad community-based effort. The work was made using salvaged wood collected from beaches, development sites and construction yards throughout Vancouver and milled on site. Individuals and local businesses generously donated materials and labour, including lumber, hardware, propane, architectural and engineering expertise. Numerous volunteers from the community generously offered their time and energy milling and burning thousands of feet of timber.

Heather and Ivan Morison work collaboratively and make art as an active engagement with materials, histories, sites and processes. The Morisons have made site-specific projects internationally including the establishment of an arboretum in a remote village in Wales.

Heather and Ivan Morison are based in Brighton, UK and Arthog, North West Wales. Their work has been exhibited widely in the UK and abroad, including Tate Britain, the Barbican and the 52nd Venice Biennale. Their new book Falling Into Place, a fictionalized account of their large shelter works of the past few years, was published by Book Works in late 2009. The artists are represented in Canada by Clint Roenisch Gallery, Toronto.??

Offsite is organized by the Vancouver Art Gallery and funded by the City of Vancouver through the Public Art Program. The Gallery recognizes Ian Gillespie, President, Westbank; Ben Yeung, President, Peterson Investment Group; and the residents at Shangri-La for their support of this space. Offsite is located on West Georgia Street between Thurlow and Bute streets in downtown Vancouver.?

Offsite: Heather and Ivan Morison is curated by Kathleen Ritter, Associate Curator of the Vancouver Art Gallery. The project is made possible by in-kind donations from ParkLane Homes, Superior Propane, Taiga Building Products and Elia Kirby Productions.?