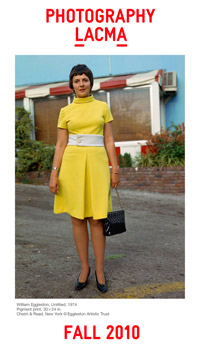 Expositions du 31/10/2010 au 16/1/2011 Terminé
Wallis Annenberg Photography Department 5905 Wilshire Boulevard CA 90036 Los Angeles États-Unis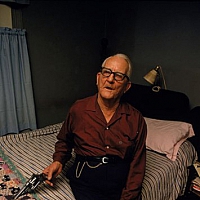 EXHIBITION

WILLIAM EGGLESTON: DEMOCRATIC CAMERA
PHOTOGRAPHS AND VIDEO, 1961-2008

October 31, 2010 – January 16, 2011

Celebrating a pioneer of color photography, this is William Eggleston's first solo museum exhibition in Los Angeles in more than thirty years. Presenting over 200 photographs, a special emphasis on recent Los Angeles work, and his early experimental video Stranded in Canton, this exhibition and related programs highlight Eggleston's lasting impact on photography, film, and music.


EVENTS

Conversations with Artists: Hito Steyerl and George Baker
Wednesday, October 6 | 7 pm
Join Berlin-based filmmaker and theorist Hito Steyerl for a presentation of her work, followed by a conversation with George Baker, Associate Professor of Art History at UCLA. A related program of Steyerl's videos will be screened at the California Institute of the Arts on Thursday, October 7, 2010.
Brown Auditorium | Free, no reservations
This program is supported in part by the Goethe-Institut, Los Angeles.

Conversation and Screening: David LaChapelle and Josh Azzarella
Saturday, October 30 | 2 pm
Artists David LaChapelle and Josh Azzarella will discuss themes of celebrity, memory and mourning in a conversation moderated by Edward Robinson, associate curator of photography. Includes a screening of Azzarella's Untitled #100 (Fantasia) (2007-9, 12:06 min.), a haunting investigation of Michael Jackson's iconic music video Thriller (1983).
Bing Theater | Free, no reservations

Film screening: William Eggleston in the Real World
With special appearance by director Michael Almereyda
Sunday, October 31 | 1:30 pm
Filmmaker Michael Almereyda will screen his acclaimed documentary, William Eggleston in the Real World, then discuss his new Eggleston book, William Eggleston, For Now with writer Lloyd Fonvielle and Edward Robinson, associate curator of photography. Book signing to follow.

Print Launch Event with Photographer William Eggleston
Tuesday, November 2 | 5-7 pm
Art Catalogues, LACMA | Free, no reservations

Film screening: Stranded in Canton
Tuesday, November 2 | 8 pm
The Cinefamily
611 N. Fairfax Ave., Los Angeles
The Cinefamily (Silent Movie Theater) will host this rare screening of William Eggleston's underground black-and-white video masterpiece, Stranded in Canton (1973-2008). Special guests to attend.
Tickets at Cinefamily or cinefamily.org


Save The Dates!

Film Panel Discussion & Related Screenings
A Tribute To William Eggleston: Photography And Film
November 4-6
A filmmakers' conversation touching on the relationship between film and photography, color, and influence. Participants include Harmony Korine, Ed Lachman, and other special guests! The evening will be moderated by Britt Salvesen, curator and department head of photography, and Ian Birnie, consulting curator, film department.
Screening of related films includes: North By Northwest (1959, Dir: Alfred Hitchcock), Trash Humpers (2009, Dir: Harmony Korine), True Stories (1986, Dir: David Byrne), and Mystery Train (1989, Dir: Jim Jarmusch).

Gallery Reading: Maggie Nelson
Tuesday, November 16 |7:30 pm
Poet and writer Maggie Nelson will read from her book Bluets (2009) and reflect on the topic of color in the exhibition.

Gallery Talk: Gawain Weaver
Tuesday, November 30 |7:30 pm
Photo conservator Gawain Weaver will discuss the range of materials and processes revealed in the exhibition.

Gallery Performance: Chuck Prophet
Monday, December 6 | 7:30 pm
Indie rock musician Chuck Prophet will perform an intimate concert in the exhibition.


The Road Movie: The Making of an American Genre, 1965–1990
January 2011
This film series looks at changing perspectives of the American landscape and its inhabitants as seen through the windshield by lonesome highway drifters. From Two-Lane Blacktop (1971, Dir: Monte Hellman) through Badlands (1973, Dir: Terrence Malick) to Five Easy Pieces (1970, Dir: Bob Rafelson).