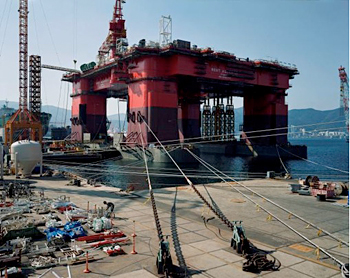 Thomas Struth, "Semi Submersible Rig, DSME Shipyard, Geoje Island," 2007. C-print, 285.7x355.2 cm.*
Expositions du 17/11/2010 au 9/1/2011 Terminé
Gallery Hyundai 80 Sagan-dong, Jongno-gu 110-190 Seoul Corée du Sud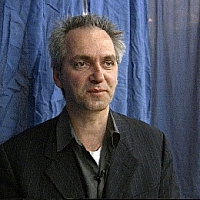 The first solo exhibition in Korea of the works by a world renowned photographer Thomas Struth (1954-). The exhibition entitled Korea 2007-2010 will showcase photographs he had taken over the last three years during his visits for this project in Korea.

In March 2007, Struth went on a first trip to South Korea. He spent time in the two largest cities, Seoul and Busan, as well as visiting religious and cultural sites, important landscapes and shipyards. At the vast DSME shipyard on Geoje Island, one of the largest in the world, he photographed tankers under construction and an immense semi-submersible drilling rig. Struth made two further visits to South Korea in 2008 and 2010, as well as visiting Pyongyang in North Korea for the first time.

The new body of work can be seen to extend Struth's fascination with complex visual structures combined with his ongoing interest in the structures and technologies humankind is able to imagine and build. The solo exhibition will present a total of fifteen new works Struth has photographed during his visits. The exhibition will have a catalog of all the works in the exhibition and an insightful essay by the writer and photographer Gil Blank.

Thomas Struth lives and works in Berlin, Düsseldorf and New York. His work has been exhibited in leading art museums around the world, including the Museo del Prado, Madrid; Dallas Museum of Art, Dallas; Museum of Contemporary Art, Los Angeles; the Metropolitan Museum of Art, New York; the Museum of Modern Art, New York; National Museum of Modern Art, Tokyo; National Museum of Modern Art, Kyoto, Museum of Contemporary Art, Chicago; Kunsthaus Zurich, Zurich.