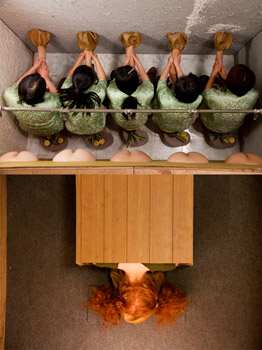 Expositions du 9/7/2010 au 3/10/2010 Terminé
SFMOMA - San Franciso Museum of Modern Art 151 Third Street CA 94103 San Francisco États-Unis Artist Mika Rottenberg debuts her latest immersive video installation for SFMOMA's New Work series this summer in her first solo museum exhibition on the West Coast. Addressing feminist themes decades after feminism was legibly defined, Rottenberg makes seriously political art that is both preposterously funny and unsettling. She documents reality, but spins it into narrative fiction. With Squeeze (2010)—the artist's highly anticipated next move following her standout piece at the 2008 Whitney Biennial—Rottenberg hones these signature tactics and pushes them to a new level of practice.

To create Squeeze, Rottenberg shot documentary footage at a rubber plant in India and at a lettuce farm in Arizona, then spliced in scenes of female workers in an absurdist makeup factory of her own imagining (actually a mechanized set constructed in the artist's studio). The video installation entwines these sites to chart the mass production of an "art object": a lumpy, subtly revolting cube made of rubber, decomposing lettuce, and blush. This "product" is a direct and self-reflexive riff on the prevailing value system of the contemporary art market, which positions artists and art objects as the hierarchical opposites of factory workers and the results of their labor. By setting her factory against the realities of mass production, Rottenberg broadens her focus beyond the art world.

New Work: Mika Rottenberg is on view through October 3, 2010, and is organized by SFMOMA Assistant Curator of Painting and Sculpture Alison Gass, who was recently cited by The New York Times as one of nine young museum curators in the U.S. to watch.

Read more here COMING THIS FALL AT SFMOMA Exposed: Voyeurism, Surveillance, and the Camera October 30, 2010–April 17, 2011 When does the impulse to see become an urge to spy, and the desire to capture an image become a compulsion to penetrate another's private world? Investigating the camera's powerful voyeuristic capacity, this timely exhibition brings together historical and contemporary images by both unknown photographers and internationally renowned artists in order to examine the most unsettling uses of photography, including pornography, surveillance, stalking celebrity, and witnessing violence.