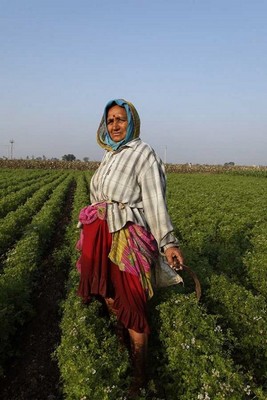 Expositions du 15/6/2010 au 4/9/2010 Terminé
San Francisco City Hall Ground floor 1 Dr. Carlton B. Goodlett Pl. CA 94102 San Francisco
The San Francisco Arts Commission (SFAC) Gallery's Art at City Hall program has teamed up with the International Museum of Women (IMOW) to coordinate and present a large-scale juried photo exhibition at San Francisco City Hall and online at the IMOW web site. Over 50 extraordinary and moving works by artists across the globe celebrate women as economic participants and agents of change. Picturing Power & Potential is project of Economica: Women and the Global Economy, an extensive and multi-faceted online exhibition presented by IMOW.

The jury reviewed works by 150 artists who responded to an international call for submissions. In the end twenty artists were selected: six artists from the Bay Area, four additional US artists, and artists from Japan, Kenya, Brazil, The Netherlands, China, India, Iran and Canada. The subject matter ranges from teen community leaders in Richmond, CA to entrepreneurs in Ghana. And from opera singers in Brazil to seaweed farmers in Zanzibar.

SFAC Gallery Director Meg Shiffler says, "This partnership has yielded one of the most diverse and stunning photo exhibitions we've ever created for City Hall. The artists have invested in their various subject matters and emerged with images that both inspire and take your breath away." "These photographs speak to the breadth of experience women have as participants in the global economy," notes IMOW Executive Director, Clare Winterton. "The exhibition shows that women are making incredible strides as powerful, economic change-agents, but that there are still significant challenges to be faced and more potential for growth than ever before." The exhibition is divided into two distinct sections: ten artists exhibiting multiple images from large bodies of work, alongside a single remarkable portrait from ten more artists.

Note that we will be exhibiting seven images from Joanna Lipper's Seaweed Farmers, which has been nominated for a Prix Pictet award. Launched in 2008, the Prix Pictet is the world's first prize dedicated to photography and sustainability.