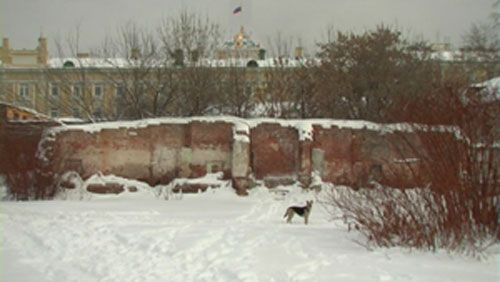 Expositions du 4/11/2010 au 30/12/2010 Terminé

Espace Dupon 74 rue Joseph de Maistre 75018 Paris France

Mois de la photo 2010 Point information 5,7 rue de Fourcy 75004 Paris France


These pieces by two young Russian artists reflect and express the sensitivity and anxieties of a new generation facing the present crisis and the direct and indirect social, psychological and political consequences it has on their lives and their art.

Viktoria Sorochinski left the former USSR with her parents in 1990 at the age of 11. After living in Israel, she studied at art school in Montréal then New York, where she now lives.

In Montreal in 2005 she bagan to take photographs of a little girl, then aged 3, and her 23-year-old mother, also Russian. She is still carrying out this subtle work of observation and interpretation, trying to capture changes in Eve and in her relationship with Anna. Central to this narrative is childhood and its dark fantasies and fears, as well as the subject of motherhood. Referring to myths, popular beliefs and the child's perception of good and evil, Viktoria's carefully staged, magical, troubling photographs express Eve's powerfully inhabited imaginary world and her complex, intense relationship with her mother. Her personality, and the presence of Little Eve, haunt every picture.

In front of the camera, a strange role-play occurs between the two protagonists and the photographer. Behind fiction, we can perceive real tensions, the fragility of Anna, and Eve's determination.

Like Alice in the Land of Disenchantment, little Eve alone seems to be in control of their fragile balance - and of the story itself.

Viktoria, as an attentive accomplice, witnesses and makes plans. She makes visible a secret world made of signs and visions. Captivated by these perfect images where no detail is left to chance, inhabited by so many mysteries and by a sense of wonder, the viewer is soon lost, as if in a hall of mirrors.

A short video, designed to act as a soundtrack for the exhibition, adds a vague feeling of angst and uneasiness to this outstandingly sensitive and intense piece.

"The Matchbox", a video by Tim Parchikov from the collections of the Maison Européenne de la Photographie. Two short sequences show the execution of a Chechen youth. This piece focuses on the way unbearable and horrific events are made to seem banal. Distanciation is achieved by gestures whose meaning gradually becomes clear as the frame pulls back and the images unfold. The tragedy of a country and a generation, summed up by a triangle of three people.