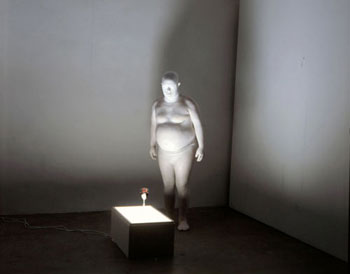 To commemorate the Spanish presidency of the European Union, and following the tradition of holding a project by an artist from the presiding state, the Fondation Européenne pour la Sculpture has invited the Balearic artist Bernardí Roig (Palma de Mallorca, 1965) to install one of his sculptures in Parc Tournay-Solvayhas, in Brussels.

The prestigious Belgian critic Willy van den Bussche, independent curator and former director of the Musée d'Art Moderne de Ostende, is the curator of Bernardí Roig's project, which takes as its starting point the famous film of Michelangelo Antonioni Blow Up! (1966), an adaptation of Julio Cortázar's novel Las babas del Diablo (The Droolings of the Devil). The depiction made by this film of the pop boom that took place in the London of the 60's turned it into a myth. However, Roig's approach does not focus on this period but on the main character of the film: Thomas, a voyeur worthy heir to the character of James Stewart in Rear Window.

Roig approaches with his installation the need of looking and of going beyond what can be seen, and manages to place spectators - i.e., park walkers - in Thomas' shoes by camouflaging different natural size statues made of white aluminium among the plants of the park. Thus the walk becomes a process of discovering what cannot be seen at first glance. This strategy is close to Roig's previous approaches, as his work studies the act of looking and recognising a fragmented world where inner vision, which can only be reached by blindness, is proven to be vital.