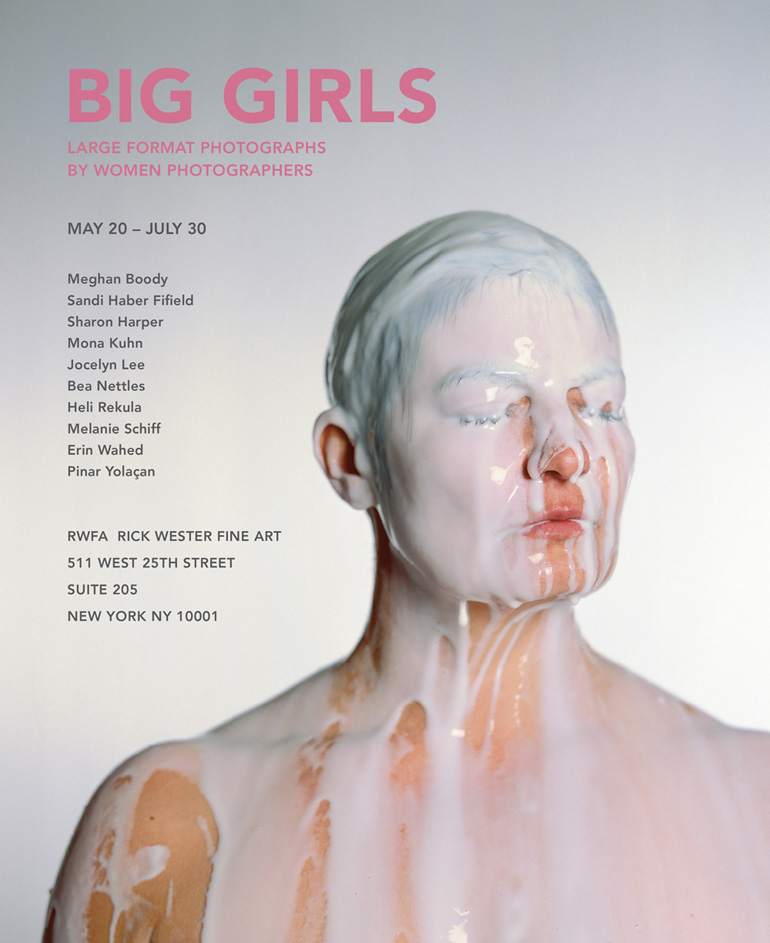 Expositions du 20/5/2010 au 20/7/2010 Terminé
Rick Wester Fine Art 526 W. 26th Street, Suite 417 NY 10001 New York États-Unis
Big Girls : Large Format Photographs by Women Photographers features a variety of compelling large-format photographs by women artists. The exhibition encompasses a host of themes within the theme, including portraiture, figure studies, abstraction, autobiography, and fantasy.

"The impetus for the exhibition was to create a showcase around several works collected by the gallery and my personal collection," says owner Rick Wester. "The concept had its genesis in 2002 with the acquisition of Jocelyn Lee's Untitled (girl with long hair standing in water), and continued to grow over the years."

Works on view range from a site-specific grid installation of 21 photographs by Sandi Haber Fifield, Looking Inward / Looking Out, 2 (2010) that will be situated in odd places near the gallery's ceiling in diagonally opposite corners, to a handmade accordion book, Hair Loss (2007) by Bea Nettles — the longtime doyenne of alternative photographic processes — that documents the loss and eventual regrowth of her hair due to chemotherapy treatments.

Photographs that look to the female figure as symbol and allegory include; Heli Rekula's Overflow (2004) from the performance series Desire, where the artist photographs herself being showered in a white milk-like liquid that forms a second skin over her muscular physique; Pinar Yolaçan will debut two works from her ongoing project, Mother Goddess. Yolaçan looks back in time and creates nearly life size odalisques of large women dressed in skintight, full-length body suits. Based on prehistoric mother goddess figurines excavated in the Hacilar region of Turkey, Yolaçan's figures are uncomfortable and shocking in the way the body suit both constrains and reveals the model.

Other highlights include Sharon Harper's large-scale minimalist compositions of the night sky from her Moon Studies and Star Scratches series (2003-2009), and from the youngest contributor to the exhibition, Erin Wahed, saturated prints of otherworldly abstract landscapes.

Heli Rekula
Overflow, 2004
Chromogenic print, Diasec mounted
53 1/4 x 39 1/2 inches
Courtesy the artist