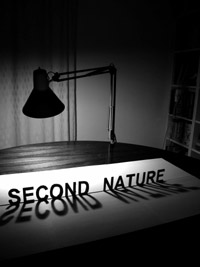 Expositions du 19/4/2010 au 21/5/2010 Terminé

Camberwell Space Peckham Road SE5 8UF London Royaume-Uni


SECOND NATURE brings together the work of Vicki Kerr and Matthew Smith, which explores human kind's relationship to and philosophical distance from nature. Both artists reject the idea of one all encompassing original 'nature' in favour of infinite interpretations, copies, and inventions of the natural. Humans value nature for its health and integrity over the artificial works of man, seeing it as real or authentic. It is though a human construct who's meaning is not fixed and permanent but is created, altered and re-imagined again and again by successive generations to many different ends. Their practice explores, reveals and navigates a way through these myriad natures.
Vicki Kerr has taken two found texts, which describe two differing encounters with zoos one in China and one in England and re-made them in relief using the mutable and corporeal material of sugar paste. In a second work she uses the image of a wall depicted in a press photograph documenting a zoo in China. Isolating this ruined structure from the rest of the image and reconstructing it in three dimensions by casting the individual bricks and re-constructing the broken down wall.

Matthew Smith has removed a rock from the foreground of a picturesque view in the Lake District National Park. A mould was made from it, which was used to create concrete copies of the rock. One of these concrete copies was taken back to the location and placed within the scene in exactly the same spot from which the original was removed. Multiple copies of the rock are randomly distributed around the gallery creating a cloned artificial /natural environment which the viewer can wander through.

Nature is created or simulated for our visual consumption, whether it be in the themed environments and enclosures of a zoo or the confines of a national park. These encounters with the natural world are carefully ordered to favour the visual consumption of something rather than any real time physical interaction with it.

The exhibition focuses on the way the natural world is represented photographically and textually, re-presenting, re-telling, re-casting and disrupting these images. All three projects re-create an element of nature from some cultural source, a photograph, a newspaper article and a designated view in a National Park. In the re-telling or translating of these works the original becomes slightly skewed. In the copy of a given situation there is a decline a loss of some sort both in the materiality and the perception of the original, the stand-in is in the end a sad indication of an event missed. These three works together create an environment of duplications, which the viewer can navigate both physically and conceptually.