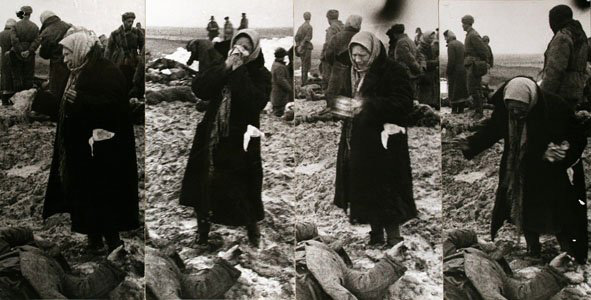 Expositions du 05/05/2010 au 30/07/2010 Terminé
Nailya Alexander Gallery 41 E 57th Street Suite 704 10022 New York États-Unis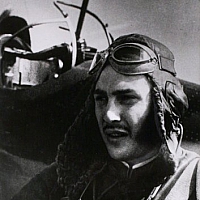 Nailya Alexander Gallery is pleased to present "Dmitri Baltermants: Photographs 1940s-1960s," an exhibition encompassing the photographer's iconic WW II images and his work from the last years of Stalin's glory and the era of Khrushchev's politics. The show of some thirty vintage prints will run from 5 May through 30 July 2010, at 41 E 57th Street, Suite 704.

We are especially pleased to present this exhibition in commemoration of the 65th Anniversary of the end of WW II in Europe this May. During the war, Dmitri Baltermants (1912-1990), who taught himself photography, worked for Izvestia (the Communist Party newspaper) among other journals, covering battlefields in Ukraine, Poland and Germany, reaching Berlin in 1945. His photographs chronicle war as a universal tragedy. Grief (1942), one of his most iconic war images, documents the aftermath of a Nazi massacre in the Crimean village of Kerch by showing grieving village women as they search for the bodies of their loved ones.
Baltermants spent a long time working on images from this ferocious event, which were only displayed for the first time in the 1960s. We are exhibiting three of the photographer's interpretations of the harrowing scene. While in Germany, Baltermants took another memorable photograph Tchaikovsky (1945), in which he captured a moment of calm and beauty in the midst of destruction: a group of Russian soldiers, gathered in a shattered room of a ruined house around a miraculously unharmed piano, listening to a soldier playing.
After the war Baltermants worked for Ogonyok, a popular illustrated magazine. It was the beginning of Cold War when anti-foreign agitation was visible throughout all spheres of life, particularly in science and culture. Baltermants made a historic picture of leading Soviet biologist Lysenko attacking Western genetic research in 1948.
And in 1949, he photographed internationally renowned American bass-baritone singer and actor, Paul Robeson (1898-1976), who was warmly embraced in the Soviet Union for his civil rights and peace movement but persecuted in the US for his leftist politics, especially in the age of McCarthyism.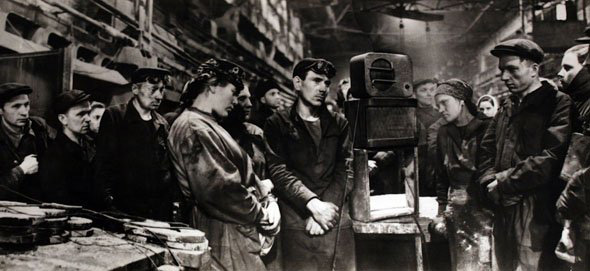 Announcement of Stalin's Death, 1953
Robeson received the Stalin Peace Prize in 1953. Every Soviet citizen remembered March 6th of the same year, the day when Stalin's death was announced. Baltermants created the photograph The Announcement of Stalin's Death out of three negatives in order to depict the grieving workers at the Dynamo Factory. We are also exhibiting a rare color print of Stalin on his death bier.
Being a Kremlin photographer, Baltermants made a favorable portrait of the Party's next First Secretary, Nikita Khrushchev, at his dacha in the summer of 1955. Shortly after consolidating his power, the ebullient and dynamic politician was a stark contrast to the dangerous Stalin. Khrushchev is probably remembered as a most colorful Soviet leader, known for his dramatic, boorish gestures and unreasonable policies including his unshakable belief that Communism would triumph over capitalism. One of the spotlight images from this period is of Khrushchev holding a piece of corn at a meeting promoting his campaign to grow corn in the American fashion. After a visit to Iowa in 1959 where he saw field after field of maturing corn, his enthusiasm grew for innovation, which eventually undermined his reputation.
In 1964, with another change of power (Khrushchev was forced to retire), Baltermants became a member of Ogonyok's editorial board and its main picture editor. The same year he had his first personal exhibition in London and the following year in New York. He became an accomplished artist, an expert in staged photography and a master of socialist realist art.

We are honored for an opportunity to present rare prints of one of the greatest practitioners of Soviet photography. To view more images please visit our gallery or website.