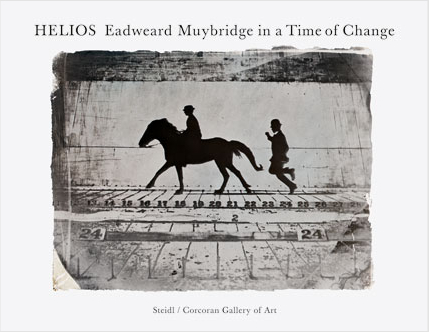 © Steidl/Philip Brookman
Helios: Eadweard Muybridge in a Time of Change offers a unique opportunity to trace the life and complex art of the 19th century photographer. This book places his entire body of work – both artistic and technical – in the context of one of the most transformative periods of American and European history. Published to accompany a retrospective exhibition organized bythe Corcoran Gallery of Art, this catalogue includes essays by Philip Brookman, Marta Braun, Corey Keller, and Rebecca Solnit that investigate a variety of new ways to understand and interpret Muybridge's art and influences.
Born in England, Eadweard J. Muybridge (1830–1904) moved in his early twenties to the United States, where he was soon drawn to the dramatic Western landscape. After a stagecoach accident, during a long convalescence in England, he learned photography. Returning to San Francisco in 1867, he soon earned his reputation photographing both the landscape and urban development of the West. Muybridge is best known for this inventive work and his massive atlas of stop-action motion studies, Animal Locomotion, first published in 1887.
Réagissez à cet article