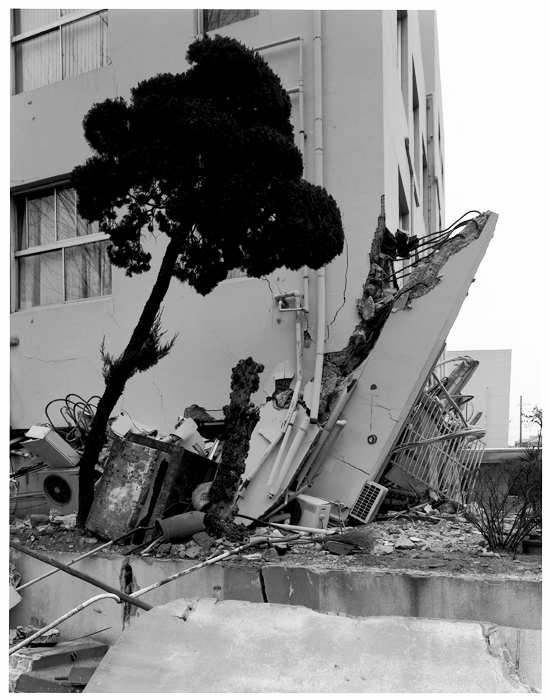 Expositions du 9/3/2010 au 8/5/2010 Terminé
Amador Gallery The Fuller Building 41 E 57 Street 6 Fl NY 10022 New York États-Unis 5:46 am, January 17, 1995. An earthquake with a magnitude of 7.2 originating from a point twenty kilometers below Awajishima Island in southern Hyogo Prefecture struck the city of Kobe and its vicinity. It shook the earth for a mere 15 seconds, enough to kill 5,000 people and destroy more than 100,000 homes and other structures. In the aftermath of the quake, the city caught fire, laying waste to an area of 1,043,000 square meters.

Ryuji Miyamoto's photographs show Kobe as it was just after the earthquake. Both in their overall aspect and in their finer details they give some idea of the magnitude of the force that assailed Kobe's buildings and of the way that whole districts were destroyed. Frozen between their previous state of inactness and their soon to be complete demolition, Miyamoto gives us a look at the fallibility of the built form.

Ryuji Miyamoto was born in 1947 in Tokyo. He has won numerous awards including the Kimura Ihei Memorial Photography Award and the Leone d'Oro for the Best National Pavilion at the Sixth International Architecture Exhibition at the Venice Biennale. He has exhibited across Europe, Asia and the United States, and is included in many prestigious collections including the Getty Museum in LA, the Centre Pompidou in Paris and the National Museum of Modern Art in Tokyo.