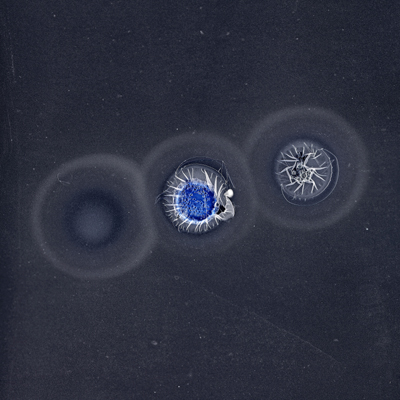 Expositions du 15/4/2010 au 13/6/2010 Terminé
Photo Edition Berlin Ystaderstr.14a Prenzlauer Berg 10437 Berlin Allemagne Claus Stolz is probably one of the most radical practitioners of analogue photography.
The shots that he took for the work cycle »The Sun« - can be seen as photography in the literal sense - in this case, time exposures, written by the sun itself. It is not the reflection of the objects, but the direct rays of the sun, which form a work of destruction.
Working with long exposures and a variety of film materials he creates images of uncomparable beauty and versatility.
Each variation is influenced by the process of combustion: round to oval – traces of time burned into the respective film emulsion – depending on the exposure time, a few seconds up to several hours. The radiation intensity of the sun, in some studies softened or interrupted by clouds during exposure, as well as the photographing system (with collecting lenes with a diameter of up to 1 meter) and its settings, the film material and the kind of film development determine the results. In this way, the seeming course of the sun is captivated on celluloid.
For 15 years now, Stolz has been working with this technique, which he calls Heliography, "Sun Drawing". In the age of digital imaging his works take a peculiar position in the history of photography.
Photo artist Claus Stolz (*1963) lives and works in Mannheim. His works have been shown by various museums and art associations.