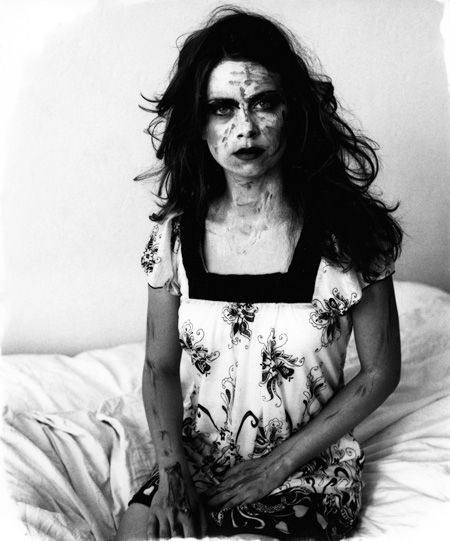 Expositions du 12/3/2010 au 30/4/2010 Terminé
Galerie Bugdahn und Kaimer Düsseldorfer Straße 6 40545 Düsseldorf Allemagne Entitled Black Angels' Playground, it is his eighth solo showing at Galerie Bugdahn und Kaimer.

Timpner has spent years on a continual exploration of the medium of black-and-white photography. Rich in contrast, precise in its formal vocabulary and highly expressive of hand, his unmistakeable works articulate sublimity, beauty and horror in a very contemporary way. The artistic outcome of his work never comes contrived, but is realised as a dynamic statement possessed of sensitivity and great sureness.

In an essay on the works on show in this exhibition, author and philosopher Heinrich Heil writes, '(...) portrait masks - in the works in his most recent thematic set, the artist photographer Ingolf Timpner succeeds in transporting a person and her/his personality into the picture. With sparse brushstrokes he paints masks onto the sitters and shows us individuals who play a part and who speak through the mask. Like the Expressionists, Timpner senses the character of his sitters and accords them their role as individuals, giving them their image in the make-up he paints on their faces.'

Ingolf Timpner was born in Mönchengladbach in 1963 and lives and works in Düsseldorf. His works have entered numerous collections, the DZ-Bank in Frankfurt, the E.ON enterprise in Düsseldorf, Museum Ludwig in Cologne, the Musée de la Photographie at Charleroi in Belgium and the Bibliothèque Nationale in Paris among them.