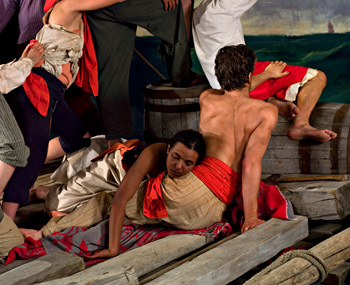 Adad Hannah The Raft of the Medusa (100 Mile House) (video still, detail), 2009 Courtesy of the artist and Pierre-François Ouellette art contemporain, Montreal
Expositions du 21/3/2010 au 30/5/2010 Terminé
The Aldrich Contemporary Art Museum 258 Main Street CT 06877 Ridgefield États-Unis The nineteenth-century tableau vivant is revived and given a new twist in the video works on view in Adad Hannah: Masterpieces in Motion at The Aldrich Contemporary Art Museum from March 21 through May 30, 2010.

For his first solo US museum exhibition, Adad Hannah will present two videos produced with the collaboration of the Prado Museum, Madrid, that address the art historical canon by reframing Hieronymus Bosch's Garden of Earthly Delights (c. 1500-1505) and Diego Velázquez's Las Meninas (1656). A third video restages The Raft of the Medusa (1818-1819)—a mammoth painting by Théodore Géricault which hangs in the Louvre—with a cast of eighteen high-school students and two tree planters in the central British Columbia community of 100 Mile House.

The body of work selected for this exhibition pays homage to the nineteenth-century practice of staging tableaux vivants by having live models hold poses for several minutes. Hannah's short videos attempt to freeze moments of interaction between viewers, the models seen in the work, and canonical paintings from Western art history, providing an opportunity for viewers to reconsider their meanings in the context of contemporary culture.

Hannah says, "I'm interested in undermining the verity of the photographic image by drawing attention to the element of performance inherent within photography. Video allows me to slow down and expand the photographic moment, creating a space for reflection that transforms passive viewers into self-conscious historical agents."

The exhibition is accompanied by an illustrated booklet with essays by Mónica Ramírez-Montagut, curator at The Aldrich Contemporary Art Museum, and Maria Nicanor, assistant curator at the Solomon R. Guggenheim Museum.

The Aldrich will celebrate the opening of Adad Hannah: Masterpieces in Motion by hosting a Creative Conversation between the artist and the curator on Sunday, March 21, 2010, from 4 to 5 pm. Following the program, patrons are invited to enjoy refreshments, meet the artist, and explore the work on view from 5 to 6:30 pm. FREE for members; reservations are required for the Creative Conversation, which has been made possible by the generous support of Québec Government Offices in Boston and New York.

The Aldrich is supported, in part, by the Connecticut Commission on Culture & Tourism, the National Endowment for the Arts, and the Institute for Museum and Library Services. The official media sponsors of exhibition openings are Ridgefield Magazine and WSHU Public Radio.