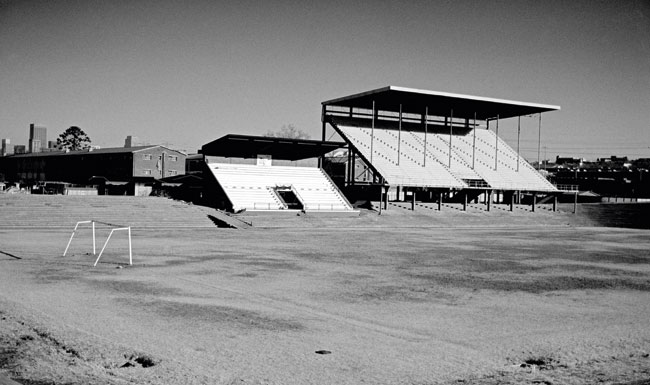 Expositions du 23/3/2010 au 30/4/2010 Terminé
Brodie/Stevenson 373 Jan Smuts Avenue, Craighall Johannesburg Afrique du Sud Sabelo Mlangeni's Men Only focuses on the George Goch hostel on the East Rand of Johannesburg. Built in 1961 to house migrant mineworkers, today the hostel is home to taxi drivers and security guards, among the many who move to Jozi to better their lives. Only men are allowed in such hostels, and in the collective imaginary they are places of violence, sexual abuse and illegal trafficking. They are also places where the legacy of apartheid is still clearly evident, despite the gains of the past 15 years of democracy.

Mlangeni spent several weeks in the hostel, sharing the daily routines of the tenants as he worked. 'I did not choose to be invisible, but ended up blending with the people in the hostel. I became one of them. I spent so long there that they never really cared what I was doing. I tried not to be influenced by preconceived ideas, not to take a predetermined perspective towards the presence of violence, homosexuality or sexual abuse.' An immigrant to the city himself, Mlangeni found the lives that are revealed through his lens to be 'as complex as I imagined and at times as familiar as my own skin'.

In At Home (Ekhaya) the rural life is a counterpoint to the living conditions of the urban hostels. It is mostly old people and children who remain in the countryside, while youths and adults move to cities to earn a living and send funds back home. Life is slow and 'empty'; the landscape assumes unreal contours, and light and dust make everything look as if suspended in time. Mlangeni has been photographing those 'left behind at home' for the past four years, each time he returned from Johannesburg. These places, where many of the urban immigrants have their roots, are portrayed as spaces of waiting, seen through the filter of memory.

Born in Driefontein near Wakkerstroom in Mpumalanga, Mlangeni trained as a photographer at the Market Photo Workshop in Johannesburg, where he graduated in 2004. He won the Tollman Award for the Visual Arts in 2009. His first solo show, Invisible Women, took place at Warren Siebrits, Johannesburg (2007). Group exhibitions include Summer 2009/10: Projects at Michael Stevenson, Cape Town (2009); Obsession, PhotoZA Gallery (2004); Johannesburg Circa Now, Johannesburg Art Gallery (2005); Gender & Visual Exhibitions, District Six Museum (2005); and Positive: Pulse at Sun International, Sun City (2003).