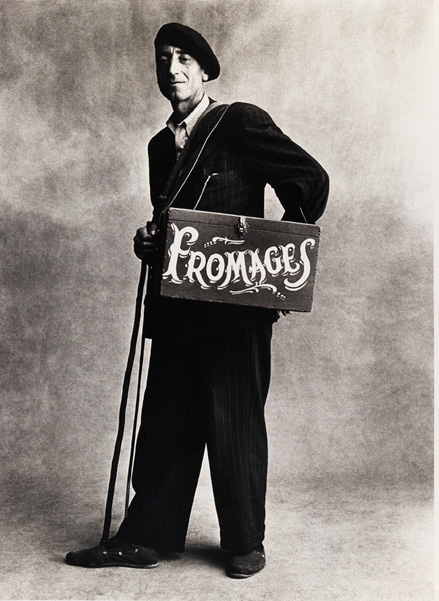 Expositions du 5/3/2010 au 24/4/2010 Terminé
Hamiltons Gallery 13 Carlos Place, W1Y 2EU London Royaume-Uni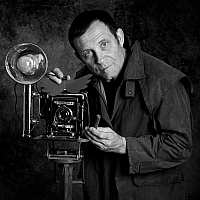 Working in London, Paris and New York, Irving Penn photographed the Small Tradesbetween 1950 and 1951, when he was thirty-three years old. Hamiltons presents a selection of thirty black and white platinum palladium prints in the first Small Tradesexhibition in Europe, following the Getty Museum's landmark show, which closes 10 January 2010.

The format, similar throughout - whether the sitter is a butcher, fishmonger or chimney sweep, is full length, frontal and invariably standing. Penn has created masterful representations of skilled trades people dressed in work clothes, with markers of their occupation. A neutral backdrop, often an old theatre curtain, and natural light set the stage on which his subjects present themselves - an atmospheric 'visual nowhere' that Penn was instrumental in popularising as a staple of fashion photography. John Szarkowski, former director of photography at the Museum of Modern Art, commented that Penn's portraits claimed people were interesting enough they did not need to be photographed with the support of a glamorous backdrop.

Conveying a striking nobility, Penn's compositions, organised like scientific typology; present both order and simplicity, typical of his 'signature blend of classical elegance and cool minimalism.' (Andy Grundberg, International Herald Tribune, 9 October 2009). The sitter, a specific individual, stands in for a group whilst simultaneously enjoying splendid isolation from the real world. Imbued with calm and decorum, Penn had a talent for picturing his subjects with compositional clarity and economy, witnessed also within his fashion photography. 'His models were never seen leaping or running or turning themselves into blurs... rather, transformed within the quieting frame of his studio camera into the graphic equivalent of a Greek frieze.' (Andy Grundberg).

Irving Penn (1917 - 2009) began his prolific career in photography in 1944 under the guidance of Alexander Liberman, then art director of Vogue magazine. His areas of interest included fashion, portraits, places, people, still life, objects, food and flowers. Penn is recognised as one of the worlds leading photographers of our time having exhibited internationally and published numerous books including Moments Preserved (1960); Flowers (1980) and Notebook at Random (2004). His work is held in the permanent collections at Metropolitan Museum of Art, New York; Museum of Modern Art, New York; J. Paul Getty Museum, LA; Art Institute of Chicago and the Moderna Museet, Stockholm amongst others.