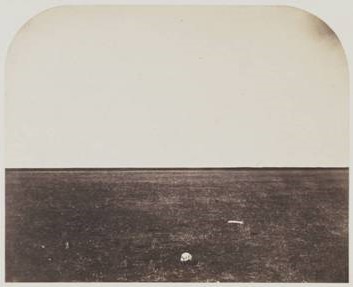 Expositions du 3/3/2010 au 7/3/2010 Terminé
Park Avenue Armory 643, Par Avenue 10065 New York États-Unis
Hans P. Kraus Jr. Fine Photographs will present an exhibition of 19th century photographs, featuring views of horizons around the world, at The Art Show presented by the Art Dealers Association of America on March 3-7, 2010, at the Park Avenue Armory. The Horizon in 19th Century Photographs will include work by Eugène Cuvelier, Roger Fenton, Gustave Le Gray, Humphrey Lloyd Hime, William Henry Fox Talbot and Félix Teynard.

The limits of the earth's resources are increasingly apparent. Our earliest photographs of natural beauty and man-made monuments suggest that a lasting legacy of these works is not solely aesthetic, but also a prescient reminder of how the medium of photography was instrumental in establishing an environmental awareness among its earliest audiences.

Highlights

Among the highlights in The Horizon in 19th Century Photographs will be Humphrey Lloyd Hime's The Prairie Looking West, 1858, a coated salt print from a glass negative. This rare image of the vast expanse of the Canadian Plains is perhaps the earliest image of a perfectly flat, unbroken horizon. The startling presence in the foreground of a skull and bone make this view all the more dramatic.

Roger Fenton became widely known for the first serious and extensive photographic documentation of a war. The Crimean War (1853 -1856) was the first major conflict to take place after the invention of photography. Fenton's sweeping landscape, Kadikoi, from Camp of Horse Artillery, 1855, a salt print, shows a surprisingly peaceful, though devastated, military campground after a battle.

Most early photographs of the Forest of Fontainebleau record a bucolic, natural setting, yet rarely include people. Franchard, Forest of Fontainebleau, 1863, a salt print from a paper negative, is the only known photograph by Eugène Cuvelier in which a figure is prominent. The man dominates the landscape.

Félix Teynard's monumental Égypte et Nubie, a book of 160 calotype plates, was published in 1858. A rare, unpublished variant salt print of the panorama of Abu Simbel from across the Nile, 1851-1852, is on view. This untrimmed print, believed to be unique, shows the full negative.