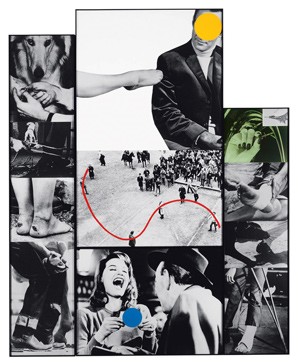 Expositions du 11/2/2010 au 25/4/2010 Terminé
Museu d'Art Contemporani de Barcelona (MACBA) Plaça dels Angels, 1 08001 Barcelone Espagne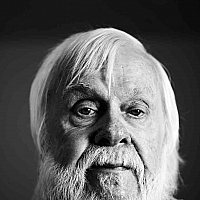 Born in National City, California, in 1931, John Baldessari is undoubtedly one of the most influential artists of our time. His long-term exploration of language and image coupled with his inquisitive approach to art-making has expanded the parameters of what we consider art.

In 1966 he began taking photos in a working class suburb of his hometown, National City. The pictures were intentionally non-spectacular and mundane. As an antithesis to Pop art, Baldessari adopted an anti-heroic attitude by documenting ingenious actions instead of monumentalising his subjects. The photos were enlarged and transferred onto canvas, and then commercial sign painters painted equally prosaic texts identifying each site. These photo and text pieces created new meanings and tensions between images and words and marked a pivotal turning point in Baldessari's artistic trajectory.

He later went one step further by dropping imagery all together from his canvases, leaving only texts appropriated from varied sources, which he sometimes manipulated. 'I sought to use language not as a visual element but something to read. That is, a notebook entry about painting could replace the painting... I was attempting to make something that didn't emanate art signals.' The concept of authorship was further addressed in the Commissioned Paintings (1969) series in which Baldessari hired amateur artists to produce paintings of photographs of a hand pointing at something ordinary. The inspiration for the series came from a criticism that said that Conceptual art was nothing more than pointing.

Teaching has always been a significant and integral part of Baldessari's life. In 1970 he was offered a position at the renowned California Institute of the Arts (Cal Arts) where he taught alongside influential contemporaries such as John Cage and Nam June Paik. Being exposed to their work and their respective mediums, music and video, made a significant impression on Baldessari. Music brought about the notion of temporality, which is reflected in his work through the use of multiple photos in a time sequence manner, as in Artist Hitting Various Objects with Golf Club (1972–73). With the introduction of the Sony Portapak, Baldessari naturally experimented with the new medium. Initially made for his students, such videos as I Will Not Make Any More Boring Art (1971) and I Am Making Art (1971) have become some of the artist's most iconic video pieces.

Having moved to Los Angeles, the proximity of Hollywood also found its way into Baldessari's work. He adopted the work processes of the film-making industry as themes in works such as Story with 24 Versions (1974) and Scenario: Story Board (1972–73) where plots are sketched out scene by scene. Baldessari also appropriated imagery from film stills, which he found in local shops and meticulously categorised by content for inspiration and use in his works. Simultaneously, the pieces he created began to take on a larger scale, using the photographs as building blocks to suggest narratives. In Kiss/Panic (1984) there is a provocative juxtaposition of a couple kissing, with a seemingly chaotic crowd scene below, surrounded by photos of pointing guns.

By the mid-1980s coloured dots began appearing on the faces of the characters in the found photographs. Baldessari discovered that obliterating the face gave even more anonymity to the subjects and therefore forced the viewer to focus on other aspects of the image to make sense of the scene. Bloody Sundae (1987) consists of two distinct scenes with the subjects composed in the form of an ice-cream dessert. On top, two men attack a third beside a stack of paintings, while beneath them a couple lounge decadently on a bed. All five faces are covered with coloured circles. The violence of the upper image coupled with the suggestive title, hints at a pending raid on the couple's room.

In later works the signature coloured dots usurp the rest of the person, flattening the image and creating an abstraction of the human form. The Duress Series: Person Climbing Exterior Wall of Tall Building/Person on Ledge of Tall Building/Person on Girders of Unfinished Tall Building (2003) has three such figures in compromising situations; however the filled-in silhouettes somehow attribute humour to what would be a dangerous scene.

Baldessari revisits his ongoing interests in the parts of the body that identify visual sensitivity in the series Noses and Ears (2006–7) and Arms and Legs (2007–8), in which these parts are isolated while other details of the body and environment are coloured in or omitted, leaving viewers the bare minimum to interpret the work. In his most recent series Furrowed Eyebrows and Raised Foreheads (2009), the artist continues his exploration of human expression through fragmentations.