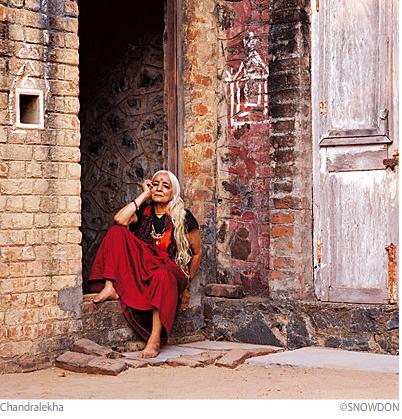 Expositions du 12/12/2009 au 30/1/2010 Terminé
Photoink Hyundai MGF Building, ground floor. 1 Jhandewalan, Faiz Road 110005 New Delhi Inde Photoink is delighted to end 2009 with India by Snowdon, an exhibition of portraits and book release by the legendary British photographer, Lord Snowdon. On invitation and support from The Nand and Jeet Khemka Foundation, Lord Snowdon travelled across India between 2004 and 2005 making portraits of prominent professional Indians. India by Snowdon was a project commissioned to Photoink in 2004.This exhibition and book of portraits, a selection of prominent professional Indians, represents some of the men and women who have made an impact on the life and times of an ancient civilization but young nation.Ranging from politicians to filmmakers, painters, social activists, writers, academics, and others, this extraordinary album of photographs, carefully staged and shot by Lord Snowdon, would be of interest to those who would want to be reminded of some of the best and brightest interventionists of post independent India, from 1947 to the start of a fresh millennium. Photographed in their homes and work places, these creative and dynamic individuals, some celebrated, others aspiring to meet challenging goals, make an unusual exhibition and book.

Accompanying the images in the book are nine essays that look at different facets of Indian culture and history. The essays written by some of India's leading thinkers are more in the nature of reflections than rigorous expositions. The essays provide the context for the portraits of the persons who shape contemporary India.

ABOUT THE NAND AND JEET KHEMKA FOUNDATION
The Nand & Jeet Khemka Foundation is an Indian public charitable trust. It represents a desire to create a modern philanthropic foundation in India that can leverage limited resources to help change the country through a strategic vision. It believes that change can only be effected through multi-stakeholder collaboration both within India and internationally and therefore are deeply committed to partnership and collaborative approaches. The Foundation works in the key areas of climate change, school-based leadership development with values, social entrepreneurship, promoting cultural awareness and integrated rural development.