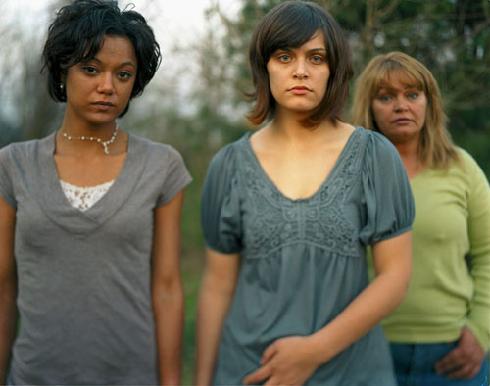 Expositions du 4/2/2010 au 20/3/2010 Terminé
Foley Gallery, New York 547 West 27th Street, 5th floor 10001 New York États-Unis Lydia Panas is an observer of the family dynamic. In her photographs, she manages to capture subtle hints of those complex relationships that tend to exist within the extended family or circles of friends. Her photographs examine the way in which these relationships are simultaneously a product of and an influence upon the identity of each member of the family group. The subjects are arranged similarly in each image; in some verdant setting, they openly face the camera through a narrowly selective depth of field. Through this simple arrangement, the subjects confront the viewer with quieted expression and gesture. Both tension and attraction within the group can be detected in the details: in posture, dress, closeness or distance. The photographs capture and prolong a moment of pause whereby a slight and perhaps distracted gesture carries the mood and exposes some piece of an interpersonal identity. Panas manages to disarm her subjects in such a way as to induce the unconscious display of this sort of familiar connectedness in various outdoor spaces made intimate.

The sensitive rapport that Panas maintains with her subjects comes from an early exposure to cultural difference, which forced her to develop a subtle eye for social expression. As she explains, "These experiences impressed upon me the importance of careful observation, which I incorporated into my photography, and turned my eyes to the details."

Lydia Panas graduated from Boston College with a BA in Psychology. She went on to study at the Art Institute of Boston and received her BFA in Photography from the School of Visual Arts. She has also participated in the Whitney Museum Independent Study Program and the New York University/ International Center for Photography MA in photography program.