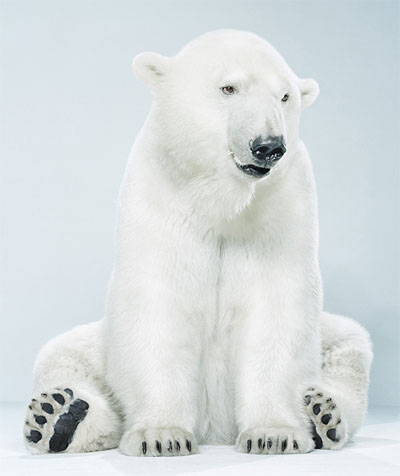 Jill Greenberg Bear Portraits
Expositions du 21/11/2009 au 5/12/2009 Terminé
Guy Hepner Contemporary Knightsbridge London Royaume-Uni "These pictures are smarter than the average bear" - Elivis Costello

Bears occupy a unique position in the popular imagination - at one end of the spectrum is the cuddly teddy bear and at the other the terrifying grizzly. Acclaimed celebrity portrait photographer Jill Greenberg confronts our collective fears and fantasies with her remarkable series Bear Portraits.

"When I was shooting the bears, I was surprised that they'd often pose like cuddly teddy bears. I thought that was really cute and I liked the dichotomy between the two ways the bears could be," says Greenberg.

The creator of the infamous photographic collections End Times and Monkey Portraits, Greenberg is renowned for her highly original visual style. Whether the subject is a pop music diva, a film star, or a chimpanzee, Jill Greenberg photographs are instantly recognizable. Greenberg's bear portraits engage the viewer with an incredible range of emotion: cubs as cute as a child's stuffed animal, brown bears that look as if they might swallow you whole, and polar bears seated in sphinxlike tranquility.

The poses and facial expressions of Greenberg's bears are at turns oddly comedic, pensive, terrifying and often surprisingly human. Alive with Greenberg's signature lighting and seen through the unique perspective of her lens, these bear portraits offer unforgettable encounters with our untamed selves.

Guy Hepner is excited to present Bear Portraits by Jill Greenberg, opening November 21st and running through December 5th, with an opening party and book signing by the artist Saturday, November 21st from 7 to 9 pm at 300 N. Robertson Blvd. in West Hollywood.
Guy Hepner is one of the world's premier galleries for contemporary art and photography collectors. Founded over a decade ago in London, Guy Hepner is now housed in a gallery space in Los Angeles designed by a top architect, on West Hollywood's elite Robertson Boulevard adjacent to many luxury boutiques including Fendi Casa, Chanel, Armani and Dolce & Gabanna. Guy Hepner specializes in pop art, neo pop art and high fashion photography. Representing many of the world's most celebrated photographers and advising many top corporate, museum, celebrity and private collections, Guy Hepner has been involved in the acquisition of many of the most iconic images of the last decade. Guy Hepner is renown for continually being ahead of the trend line for identifying emerging artists and has repeatedly been acknowledged as developing the careers of several now major artists. Currently Guy Hepner represents 3 of the 5 most illustrious photographers in the world.