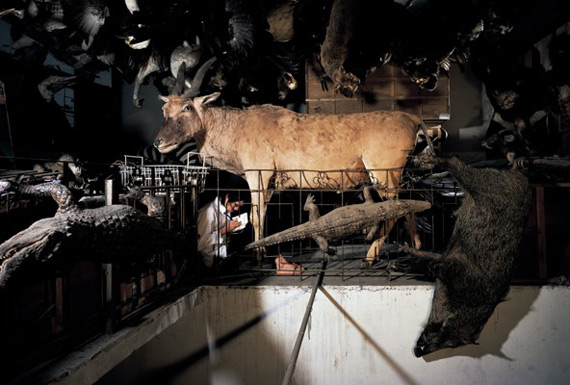 CHEN Wei. Courtesy of m97 Gallery
Expositions du 14/11/2009 au 15/1/2010 Terminé
m97 Gallery No. 97 Moganshan Road 2F 200060 Shanghai Chine m97 Gallery is pleased to present a solo exhibition of color photography works by Hangzhou and Beijing based artist CHEN Wei (b. 1980). Drawing from new and recent works from 2007 through 2009, this is Chen Wei's first solo exhibition in Shanghai.

The photography/installation works of 29-year old artist Chen Wei illustrate an intricate imagination fascinated with the eccentric and fanciful pursuits of early science, mathematics, alchemy, philosophers and madmen. Taxidermy, broken mirrors, melted wax, bats, bees, deserted bedrooms, and found objects become the artist's tableau. With a meticulous attention to details, Chen Wei creates mesmerizing scenes that leave the viewer puzzled by their intricate narrative, fantastic visual impact and odd beauty. In some of the works, the sole human subject resembles an absorbed mad scientist or passionate poet, adding feelings of isolation or estrangement to an already bizarre scene.

Chen Wei's creative and contemplative process consists of searching for and compiling myriad fragments of personal memories, and incorporating inspiration and objects from childhood or fantasies imagined juxtaposed with realities found in modern China. Most of the works are sketched and created on location in the artist's studio and then photographed, with the end result being less about the camera process as it is about the assembly of the elaborate elements that are captured in his works. The spirit and style of Chen Wei's photography works also point towards a new generation of emerging Chinese artists born in the 1980's who are less focused on political history or obvious social criticisms than personal and intellectual freedoms and the individual's place in a now modern and developed China. History for them has been obscured by economic and social reforms, and the speed and scale of development is the contemporary China they have witnessed.

For the past six years, Chen Wei has established himself as a serious conceptual artist and has exhibited his work widely in China as well as internationally. He currently lives and works in Beijing.