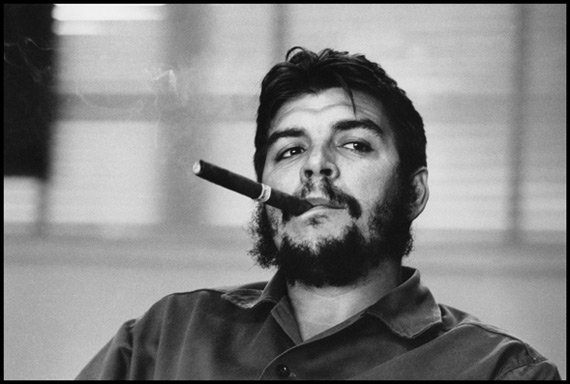 René Burri/MagnumPhotos/Agentur Focus, Ernesto Guevara, Havana 1963
Expositions du 5/11/2009 au 15/1/2010 Terminé
Flo Peters Gallery Mönckebergstraße 7 20095 Hamburg Allemagne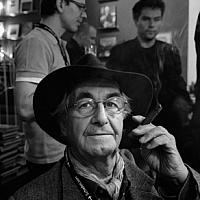 In November Flo Peters Gallery will present René Burri, one of the last remaining great photography legends of the 20th century. The show gives a comprehensive insight into the work of the Swiss photographer and takes the observer onto a journey through the 20th century: From Swiss rural life to roman dolce Vita as well as Argentinean Gauchos and impressions of Maoist China René Burri did nothing less than photo imposing pure History onto paper. With portraits of for example Le Corbusier, Alberto Giacometti or Che Guevara, René Burri eternalized some of the most influential figures of the 20th century.

René Burri was born in April 1933 in Zurich and studied at the Zurich School of Arts and Crafts from the age of 16. In 1950 he already had progressed to the master class of Photographer Hans Finsler, himself a representative of the so called Straight Photography, who greatly influenced René Burri's creative eye. In the first two years after his exams he not only concentrated on photography but also on film. Amongst others he worked as a cameraman for the Walt Disney Film Production in Switzerland and also shared a studio with Walter Binder.

His first essay of Photographs was published in 1955 in the magazine Science & Vie. On initiative of the renowned Photography agency Magnum the same series was also published in Münchner Illustrierte and LIFE-Magazine. After a second manifold published photo essay about Le Corbusier's spectacular Chapel of Notre-Dame du Haut in Ronchamp many groundbreaking photo-trips around the world should follow. These were to pave the way for first membership in 1956 and full membership in 1959 at Magnum.

The exhibition René Burri - Retrospective. Five Decades of a Great Photographer at Flo Peters Gallery shows photographs from over five decades of René Burri's work. World famous documentary photographs from South Korea, Vietnam or Brazil as well as pictures of friends and colleagues such as Yves Klein, Ingrid Bergman, Henri Cartier-Bresson or Robert Frank will not be missed. Furthermore the exhibition will show works from one of his most exciting and famous essay Die Deutschen (The Germans) in which he brilliantly documented post-war everyday life in West- and Eastern Germany. The Gallery is also proud to present selected photographs of the recently published essay of the New York Black Out in 1965.