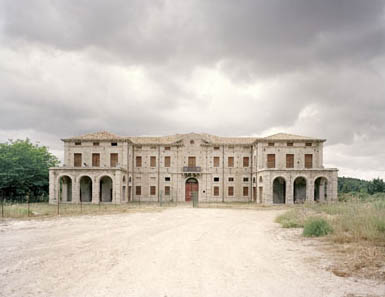 Expositions du 18/9/2009 au 11/10/2009 Terminé
FORMA Centro Internazionale di Fotografia Piazza Tito Lucrezio Caro, 1 I-20136 Milano Italie On Thursday, 17 September at 18:00, Forma, the international centre for photography, will inaugurate the exhibition "Luoghi dell'Infinito" by Massimo Siragusa
The selection of photographs chosen for this exhibition at FORMA presents a vision of Sicily that has never been seen before, where the flow of time seems to follow laws of its own. Massimo Siragusa, a Sicilian who is deeply connected to his origins, has travelled all over his homeland, seeking with love and without illusions, to uncover its truth. His photographs have an almost abstract dimension, following a confusing, dilated temporal dimension that leaves the observer bewildered.
Thus, Sicily appears silent and suspended, extraordinary, as it has never been seen before.

The subject of these images is the boundless landscapes of abandoned mines and the many villages, which, in a not too distant past, were designed according to the architectural utopia of the thirties. An uninhabited territory today, yet still filled with the aspirations and dreams of those who once lived there.
Our eye recognises these places where, in an age that is impossible to pinpoint, daily life was certainly real. These very places, imagined and designed, are now empty, deserted and filled with a blinding light that sharply defines each object, making it all the more distant, melancholic and past.

As in the large canvases of Giorgio De Chirico, In Massimo Siragusa's photographs the landscape is transformed into a stage where architectural and natural elements become the setting for a theatre piece that has come to its end some time ago.

MASSIMO SIRAGUSA was born in Catania in 1958; he began his collaboration with Contrasto in 1989. He lives in Rome.
His photographs have appeared on the foremost international newspapers.
He has created numerous advertising campaigns and teaches photography at several different institutes.
He has exhibited both in Italy and abroad and is the author of several books.
He has won four World Press Photo Awards: in 1997, for "Bisogno di un Miracolo", in 1999 for "Il Cerchio Magico" in 2008, thanks to his reportage on "Tempo Libero", and finally in 2009 with "Fondo Fucile", on the shanty-town in Messina.