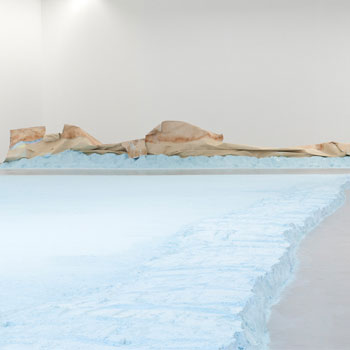 Expositions du 30/9/2009 au 29/11/2009 Terminé
Modern Art Oxford 30 Pembroke Street Oxford, OX1 1BP, United Kingdom Oxford Royaume-Uni This autumn Modern Art Oxford presents the most comprehensive UK exhibition to date of work by Glasgow-based artist Karla Black. Black has come to public prominence in recent years with her expansive floor-based and hanging sculptures created from materials that suggest both a sensory recollection of childhood: powder-paint, crushed chalk and sugar paper; and a distinct feminine association: lipstick, nail varnish and body cream.

Working in response to the given space, Black often combines large blocks of colour created from her particular choice of materials: chalk dust mixed with plaster and slabs of Vaseline coloured with acrylic paint, with those that are barely visible to the naked eye: cellophane and cling film. The artist's use of cosmetic products and the processes of her art-making viscerally evokes the 'body' and 'landscape'.

Many of her works literally 'wear' make-up, and the interplay between the cosmetic and surface, form and formlessness, is ever-present. Black's sculptures appear to be as much a reference to Minimal and performative practices of the late 1960s, and the anti-form works of Eva Hesse and Robert Smithson, as they are to a historical sculptural tradition that resonates as far back as Bernini's Ecstasy of St. Theresa for instance.

Supported by the Stanley Thomas Johnson Foundation and The Henry Moore Foundation.


ENCOUNTERS: COVA MACÍAS
30 September to 29 November 2009

Lower Gallery

Cova Macías' practice focuses on young people, how they construct their identity and present themselves. For the last six years she has made videos that intimately explore this territory, creating compelling portraits of her subjects and collaborators. Challenging the conventions of representation, these works often blur the line between documentary and fiction.

This exhibition presents three works, centring on Macías' most recent piece, La révolte intime (The intimate revolt), 2009. Made with young inhabitants of Paris' 19th district, it is part-biography of the protagonists and part-social documentary about this ethnically and culturally diverse area. Rehearsed and prepared over many months in a way that has come to characterize Macías' work, the young people speak to the camera about their lives with disarming frankness and poise.

Cova Macías lives and works in Madrid. This is the first presentation of her work in the UK.