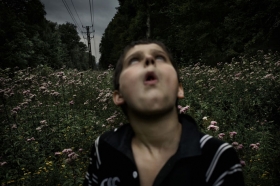 Leonie Purchas
Expositions du 24/9/2009 au 25/10/2009 Terminé
FOAM - Fotografiemuseum Amsterdam Keizersgracht 609 1017 DS Amsterdam Pays-Bas Foam_Fotografiemuseum Amsterdam presents In the Shadow of Things, an exhibition by photographer Leonie Purchas (b. 1978, United Kingdom). In March 2009, Purchas was chosen by an international jury as winner of the KLM Paul Huf Award. This prize for young international photographers, organised annually by Foam, includes an exhibition at the museum.

Since graduating, Purchas has focused on the complex relationships within families in different parts of the world. She tries to portray the contact between individuals and their family in the complex interplay of 'nature' and 'nurture'. Fascinated by 'unusual' or 'dysfunctional' families, Purchas has made several series in recent years entitled In the Family. The more she observed these families, the more she began to distrust the notion of an ideal family. She uses photography to refute the myth of the perfect family.

For In the Shadow of Things, Purchas finally turned her attention to her own family. Here she portrays the unusual life of her mother, Bron and husband David and their young son Jake. The family lives in a remote house surrounded by woods and fields. Bron has suffered from mild depression for years, which developed into obsessive-compulsive disorder (OCD), which in her case manifests itself as a fear of dirt and contamination. OCD dominates Bron's daily life to the extent that she finds it extremely difficult to deal with the demands of seemingly mundane household objects. The family moved house twelve years ago yet most of the boxes remain packed and sealed, on top of which piles of clothes, bags and ornaments have accumulated making many rooms unusable.

The photos form a highly personal and emotional record of life, in which both the photographer and the other members of the family show their vulnerability. By exposing this vulnerability she breaks through the distance that often separates photographer and subject. The camera shields and at the same time opens up a world that is entirely familiar yet nevertheless reveals itself anew. The exhibition will consist of projections, photographs and sound and film recordings from Purchas' family archive.

After graduating in art history, Leonie Purchas worked as an assistant to photojournalist Tom Stoddard. She later continued her studies at London College of Communications. Purchas has won several prizes, including the 'F' award (2008), Jerwood Photography Prize (2004) and an Ian Parry scholarship (2003). In 2006, Purchas took part in the Joop Swart Masterclass. Her work has appeared in the Sunday Times Magazine, Portfolio Magazine and Newsweek. Her book, In the Shadow of Things, will be published in 2010.