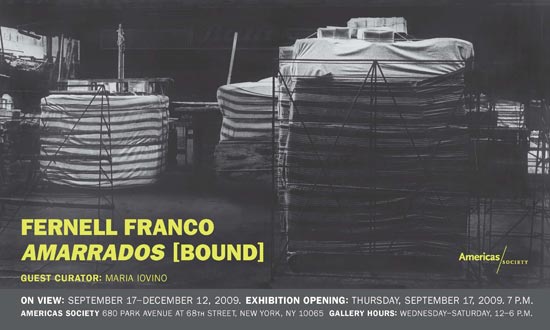 Expositions du 17/9/2009 au 12/12/2009 Terminé
Americas Society 680 Park Avenue NY 10021 New York États-Unis Americas Society opens on September 17th the exhibition Fernell Franco: Amarrados [Bound]; curated by the independent critic Maria Iovino, the show features seventeen large-scale black and white vintage prints as well as never before exhibited reference studies that demonstrate the many editing techniques Franco designed to favor the expression of a particular form in his photographs. The exhibition takes its title from the artist's series of the same name, featuring work developed between 1978 and 1994 in the streets and markets of Colombia, Ecuador, and Peru. Depicting isolated, bound and wrapped structures; the photographs are exceptional in their use of tone, shadow, and composition. The exhibition is the first U.S. solo museum show of Colombian photographer.

Fernell Franco (Colombian; b. Versalles 1942, d. Cali 2006), now understood to be one of the most significant contributors to contemporary Latin American photography, rose to prominence just a few months before his death. Born to parents displaced by political violence, the self-taught artist, guided by a passion for film and visual imagery, created his work in an environment dominated by perpetrators of armed conflict. Through a keen understanding of both the moving image and the language of editing, Franco achieved a powerful forum of expression: through fragmented discourse, he offered a revelatory look at the relationship between Latin America—its vibrant culture and fraught political landscape, its wars and socioeconomic disadvantages—and the rest of the world.

Fernell Franco: Amarrados [Bound] examines Franco's artistic process and the development of his photographic practice. His subjects are isolated inanimate objects, trussed by street vendors to protect the merchandise they hold. Franco's high contrasted images are devoid of human presence and convey death, solitude, violence, abandonment, and mystery.

Guest curator Maria Iovino aims to introduce viewers in the United States to a photographer who blurred the boundaries between art and photojournalism, and whose work disseminated the use of the medium into contemporary artistic practices in Colombia. For Iovino, Franco "reveals an unedited aspect of the abrupt and violent processes in which modernity was developed in Latin American countries and the periphery."

The exhibition runs until December 12, 2009.

PUBLIC PROGRAMS

Curatorial Talk
Maria Iovino (Guest Curator) and Melissa Harris (Editor, Aperture Magazine)
Thursday, September 17, 6:00 p.m.
Americas Society
680 Park Avenue, New York


Round Table Discussion
Between Accuracy and Aesthetic: Documentary Photography, Photojournalism and Social Photographic Practices in the 1970s and 1980s
Speakers: Sagrario Berti (Photography Historian), Susan Meiselas (Photographer) and Luis Roldán (Visual Artist). Moderated by Gabriela Rangel (Director, Visual Arts Department Americas Society).
Thursday October 1, 6:30 p.m.
King Juan Carlos I of Spain Center, New York University
53 Washington Square South, New York

For more information, please email culture@americas-society.org or call 212.277.8359, ext. 3

This exhibition is organized in collaboration with the Fundación Fernell Franco, Colombia.

Americas Society gratefully acknowledges the generous support of our donors for the exhibition and accompanying public programs: Erica Roberts, PINTA Art, Solita Mishaan, Consulate General of Colombia in New York, Nohra Haime Gallery, and anonymous donors.

In-kind support is provided by Aviatur, Colombia; Arte al Día International; and ArtNexus.

Delta Air Lines is the official airline sponsor for the Fernell Franco exhibition.

The Visual Arts program is supported, in part, with public funds from the New York City Department of Cultural Affairs.


All of our culture programs are free and open to the public. We are located at 680 Park Avenue at 68th Street in New York City. To arrive by public transportation, take the 6 train to 68th Street / Hunter College. For wheelchair access, kindly call in advance.

Americas Society members enjoy advance priority reservations and priority seating at our culture programs. To reserve your place at our culture events this season, please call the exclusive members-only reservation line at 212.277.8333, or e-mail membersres@americas-society.org.