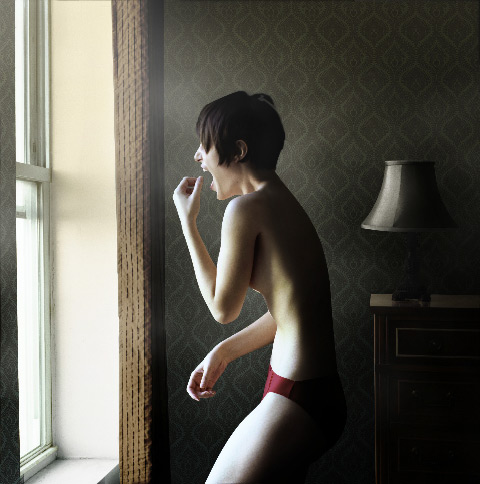 In Haley Jane Samuelson's series Another Room, the dualities and conflicts between youth and adulthood are dissected. A visible and palatable struggle is seen as phantoms of the past, present, and future are confronted. There is deep exploration into her personal relationships and her attraction to defining herself through others as well. Samuelson is a fraternal twin and as she has transitioned away from home she has been drawn to creating intimate relationships that simulated the one she had with her sister. For example, the one she has proceedede to develop with her boyfriend. In previous series, the work featured herself and her boyfriend in the apartment they shared. The work explored the boundaries between them emotionally and spatially within these rooms as well as featured objects related to themselves as individuals and as a couple, such as balloons and chocolate. For her new series, these themes are still being examined, but now with her as the sole physical presence and with fresh icons of the relationship. Contextualizing herself is a question Samuelson is consistently seeking to understand and in this compositional transition, perhaps we see her progressing towards understanding more of herself alone.

Performative in essence, Samuelson's work is influenced by both the staged qualities of Cindy Sherman as well as Sally Mann's ability to photograph her own life in a non-documentary style. Moreover, the self-portraits created by Francesca Woodward during her brief, but prolific life in the seventies and early eighties have been a heavy influence on Samuelson's choice to use the body as a tool to externalize the internal. The theatrical quality evokes a feeling of frozen moments not unrelated to the theory and superstition of a photograph as a small death of a moment, a mood, or even a bit of the soul.

Samuelson uses natural light and works solely in the confines of two rooms in her apartment. She takes the same rough shot over and over until it reaches her goal of the figure defining the space to convey her inner thoughts in concrete form. The space is maximized by setting scenes using her belongings as iconographical objects and changing the wallpaper for every shot. A record player, a balloon, her boyfriend's shirt, or a birdhouse are all metaphorical symbols from Samuelson's life. In particular, the birdhouse is an homage to her grandmother who was the only other artist in her family and painted intricate, photoreal birds on plates.

Overall, the work considers the neurosis of a single individual and within that invites the viewer to reflect on their own private relationship with their external and internal worlds. It reminds us that we all have the answers to life's questions within ourselves; perhaps, we simply need to get quiet enough to hear them. Change is inevitable and contemplation necessary. We must remember though that fighting with ourselves is like civil war; if it drags on too long you inevitably lose because essentially you are fighting yourself. While straddling the things that bind, it is important to remain whole. One gets the sense that the subject in her work is on the verge of bursting. While this might seem dire in the moment, the moment is brief and can be understood as a point of renewal and opportunity. In a quest for self-awareness, it is necessary to consider facts, rather than get swept away by emotion.

For this series, Drew ushers in a print size exclusively for hous projects that is 11 x 14 inches, which facilitates collecting her work as well as brings the viewer in for an even closer examination of her ruminations. Moreover, her standard print sizes of 35.43 x 43.3 and 43.68 x 52.26 inches are available from hous projects. Please inquire directly to the gallery for pricing and availability.

Haley Jane Samuelson studied photography at Ringling School of Art and Design and went on to receive a Master of Fine Arts from Parson's The New School for Design. During her studies at Ringling, she was awarded The President's Award, Kodak Color Award, National Dean's List, President's List, Faculty Award for Excellence and was nominated for the Trustee's Scholarship. She also was honored at Parson's with the Graduate Dean's Scholarship and Departmental Scholarship. Samuelson's work has been shown at SCOPE Basel, photoLA, SCOPE Miami, SCOPE London as well as in group exhibitions at Parsons, Ringling, and Princeton University. Moreover, her work has received critical attention in Magenta, American Photography Annual 24, Photo District News Annual 2008, Feature Shoot, Art in Brooklyn and most recently in Zoom, French Photo, Oxford American and The New Yorker.