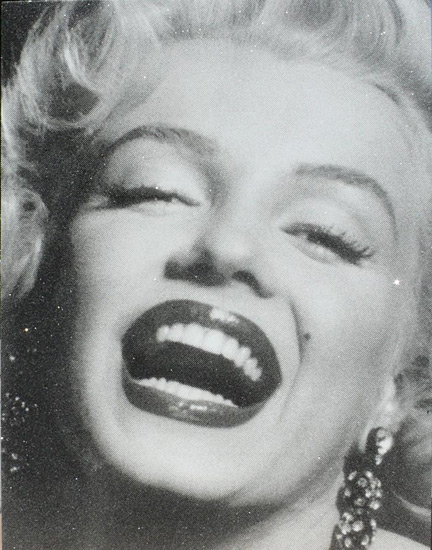 Expositions du 12/9/2009 au 25/9/2009 Terminé
Guy Hepner Contemporary Knightsbridge London Royaume-Uni GUY HEPNER is proud to present an exhibition of new silkscreen images by RUSSELL YOUNG titled DIRTY, PRETTY THINGS, opening September 12 and running through September 25, with an opening party with the artist attending on Saturday, September 12 from 7 - 9pm. Two of history's most influential celebrities, with similar and untimely stories, Marilyn Monroe and Kurt Cobain are the subjects of Russell Young's newest body of work.

Russell Young's larger than life images of these iconic figures are undeniably powerful and gripping. Young's astonishing use of diamond dust in the paint of these portraits adds a magical glittering effect that imbues the images with an ethereal quality. The decision by Young to borrow song lyrics from several of the most influential musicians of our time for the titles of the works from Dirty, Pretty Things is compelling. His choice of lyrics from songs by Nine Inch Nails and Johnny Cash such as "I will let you down, I will make you hurt" and "If loneliness meant world acclaim, everyone would know my name" serve as reminders of the tragedy and pain that will always surround these beloved figures.

20 years ago British photographer Russell Young first began capturing celebrity culture. Photographing George Michael for the sleeve of his album titled "Faith" would be the assignment that launched his career. Before Young knew it he was shooting musicians like Morrissey, Springsteen, Dylan and many other celebrities. The next natural step was directing music videos; Young directed a hundred music videos during the heyday of MTV.

In Young's own words, "My work is sort of a soundtrack of my life, loves, experiences and influences. My method of working is to search, destroy and create." Known for his edgy examinations of celebrities in the media, he has risen to become one of the most collected and sought after artists of our time. His work has been exhibited extensively in solo and group shows and is also held in many prominent public and private collections. Celebrities and collectors from the most discriminating to novice have eagerly added Russell Young's works to their collections.

Guy Hepner is one of the world's leading galleries for photography and contemporary art collectors. Founded over a decade ago in London, Guy Hepner is now housed in an architect designed gallery space in Los Angeles, on West Hollywood's exclusive Robertson Boulevard adjacent to Fendi Casa, Chanel, Armani and Dolce & Gabanna. Representing many of the world's greatest photographers and advising many corporate, museum and private collections, Guy Hepner has been involved in the acquisition of many of the most iconic images of the last decade and is renown for being ahead of the trend line with emerging and mid career artists. Currently Guy Hepner represents 3 of the 5 most prolific photographers in the world.