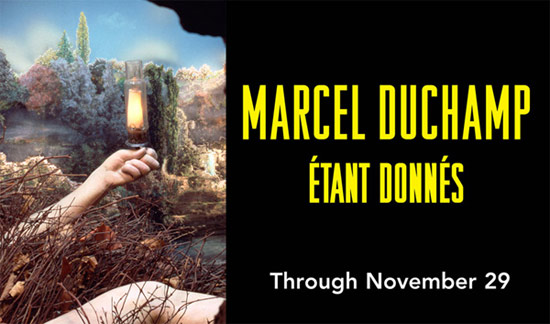 jnterior: Étant donnés: 1 la chute d'eau, 2 le gaz d'eclairage (Given: 1. The Waterfall, 2. The Illuminating Gas),1946-66 By Marcel Duchamp (PMA: Gift of the Cassandra Foundation, 1969-14-1) © 2009
Expositions du 15/8/2009 au 29/11/2009 Terminé
Philadelphia Museum of Art Benjamin Franklin Parkway at 26th Street PA19130 Philadelphia États-Unis The Philadelphia Museum of Art will present the first exhibition to examine the genesis, construction, and reception of Étant donnés: 1° la chute d'eau, 2° le gaz d'éclairage (Given: 1° The Waterfall, 2° The Illuminating Gas), Marcel Duchamp's enigmatic final masterwork. Duchamp (1887-1968) constructed Étant donnés in complete secrecy over a period of 20 years, from 1946 to 1966, during which he publicly claimed to have gone "underground" and given up art for chess. It was not until after his death on October 2, 1968 that the work was discovered in his studio. The multi-media assemblage surprised the art world and perplexed the public when, as a gift to the Museum and in accordance with the artist's wishes, it was permanently installed in July 1969, joining the world's largest collection of his works, including Nude Descending a Staircase, No.2 (1912); The Bride Stripped Bare by Her Bachelors, Even (The Large Glass) (1915-23), to which it closely relates, and readymades such as With Hidden Noise (1916) and Why Not Sneeze, Rose Sélavy? (1921).

Celebrating the 40th anniversary of its public unveiling, Marcel Duchamp: Étant donnés will situate the extraordinary assemblage within the context of almost 100 related works of art, including all of its known studies and related materials, including books, photographs, and works on paper. Duchamp also made a number of "erotic objects," small-scale sculptures that directly relate to the casting process of the female nude in Étant donnés. This exhibition brings these known works together with more than twenty previously unknown sculptures and studies. These unpublished works include erotic objects, body casts, prints, and notes, as well as over seventy Polaroid photographs taken by Duchamp of Étant donnés in his New York studio that provide the missing link in our understanding of the origins and evolution of Duchamp's final masterwork. These Polaroids will be shown alongside a series of photographs of the artist's final studio at 80 East 11th Street, taken by a friend, Denise Brown Hare, following Duchamp's death in 1968, which document Étant donnés before it was disassembled and moved to Philadelphia. The exhibition is drawn largely from the collections and archives of the Museum, and supplemented by loans from public and private collections in the United States, France, Germany, Sweden, Israel and Japan.

No photograph can ever communicate the intensity of the unique visual experience of seeing Duchamp's Étant donnés: 1° la chute d'eau, 2° le gaz d'éclairage, of 1946-66, which has been described by Jasper Johns as "the strangest work of art any museum has ever had in it." This elaborate three-dimensional assemblage offers an unforgettable and untranslatable experience to those who look through the two small holes in the solid wooden door, which is set into a brick archway in a roughly stuccoed wall. The rustic door has no handle, and only by peering through the holes does the unsuspecting viewer encounter within the spectacular sight of a realistically constructed simulacrum of a naked woman lying spread-eagled on a bed of dead twigs and fallen leaves. In her left hand, this life-size mannequin holds aloft an old-fashioned illuminated gas lamp of the Bec Auer type, while behind her, in the far distance, a lush wooded landscape rises toward the horizon. This brightly illuminated backdrop consists of a retouched photographic collage of a hilly landscape with a dense cluster of trees outlined against a hazy turquoise sky, replete with fluffy cotton clouds. The only movement in the otherwise eerily still grotto is a sparkling waterfall, powered by an unseen motor, which pours into a mist-laden lake on the right.

The exhibition, organized by Michael R. Taylor, the Muriel and Philip Berman Curator of Modern Art at the Philadelphia Museum of Art, will be accompanied by a fully-illustrated 450-page catalogue written by Dr. Taylor that will be published by the Philadelphia Museum of Art in conjunction with Yale University Press. This catalogue will present new scholarship on the history and construction of the piece, as well as the scandalous critical reception of the work after it went on public display in 1969, and its legacy for contemporary artists, such as Ray Johnson, Hannah Wilke, Robert Gober, and Marcel Dzama. It will also provide a comprehensive bibliography for the piece, as well as color plates for every work of art in the exhibition. The catalogue will publish for the first time an important cache of 35 letters that Duchamp wrote in the 1940s and early 1950s to his then lover, the Brazilian sculptor Maria Martins, who was the model for the recumbent figure in his environmental tableau construction. Dr. Taylor stated that: "these letters, which will be published in the original French as well as in an English translation, provide crucial insights into the making of the work, as well as the complex ideas behind Duchamp's endlessly enigmatic construction."

The Philadelphia Museum of Art's late director, Anne d'Harnoncourt, oversaw the installation of the work at the Museum in 1969 as a 25-year old curatorial assistant, along with the artist's widow, Alexina "Teeny" Duchamp and her son Paul Matisse. d'Harnoncourt described Étant donnés: 1° la chute d'eau, 2° le gaz d'éclairage as a work that "bristles with cross-references, visual and conceptual, to many other objects and verbal constructs by Duchamp, and was created within the same highly personal, logical, and poetic system for subverting our assumptions about reality." Dr. Taylor, who has over the last decade meticulously researched the piece and interviewed Duchamp's friends, colleagues, and family members, added: "as the first exhibition and catalogue to be devoted to Duchamp's subversive final masterpiece, this presentation will offer our visitors a unique opportunity to view his tableau assemblage within the context of its related studies, including a large number of works of art that have not been exhibited or published before."