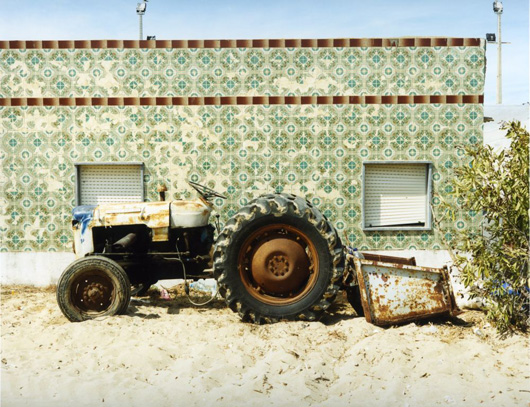 Expositions du 4/9/2009 au 31/10/2009 Terminé

Beck & Eggeling International Fine Art Bilker Str. 5, 40213 Düsseldorf Germany Tel + 49 211 49 15 890 Fax + 49 211 49 15 899 info@beck-eggeling.de www.beck-eggeling.de

Galerie Michael Wiesehöfer Schaafenstr. 8 50676 Cologne Allemagne


Brohm/Ottersbach - Culatra/Areal

The project Culatra/Areal was born out of an intense dialogue between two artists. When Joachim Brohm and Heribert Ottersbach first had the idea of collaborating in June 2007, they had known and appreciated each other's work for many years. Both were intrigued by a certain aspect of the other's oeuvre: Ottersbach by Brohm's Areal series of photogtaphs, Brohm by Ottersbach's Culatra paintings.

Brohm works in the great tradition of American photographers devoted to the art of documenting ordinary subject matter and urban landscapes. He was among the first in the late 1970's to introduce the genre of colour documentary to a European context. Ottersbach has made a name for himself among the younger generation of German painters by acknowledging and assimilating the innovations of modern technology. He uses today's digital means of reworking photographic data as a legitimate tool for painting.

Inspired by a series of paintings Ottersbach created in 2005/06 after travelling to the Portuguese island of Culatra, Brohm starts working on his Culatra cycle in 2008 after the artist's first joint visit to the island. Harbouring fishermen, immigrants and dropouts, the scarcely populated island does not remain unaffected by the challenges of social change. Brohm returns three times within a year to produce his new series of 21 photographs, in which he reformulates the image of Culatra not only in a different medium, but also through a fundamentally different approach to the subject matter.

Ottersbach, meanwhile, seeks inspiration from Areal, a series of some 300 photographs taken by Brohm between 1992 and 2002 on an industrial estate under redevelopment on the outskirts of Munich. Fascinated with Brohm's accuracy in terms of composition and content, Ottersbach manages to extract details from his documentary photographs, on the basis of which he then creates new images which can only be achieved in this form through painting. Rather than reformulating the image, he completely transforms it.

All photographs and paintings born of this creative dialogue are readily identifiable as an integral part of each artist's respective oeuvre.

On the occasion of this project, the Steidl Verlag are publishing a book with a text by Thomas Wagner.