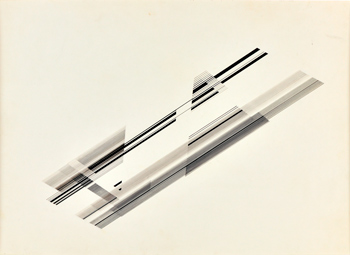 Expositions du 5/9/2009 au 15/11/2009 Terminé
Milton Keynes Gallery 900 Midsummer Boulevard Central Milton Keynes MK9 3QA États-Unis Mohamedi worked in various media, including drawing, painting and photography. These works are rarely dated, but fall roughly into three different periods. Early works, which include watercolour and ink on paper, oil on canvas, collage and lithography, are lyrical and semi-abstract. Influenced in part by Japanese calligraphy, they often suggest plant life or landscapes.

In the 1970s Mohamedi moved closer to abstraction, producing serial works based on the grid on square sheets of paper, which have become a hallmark of her practice. She constructed these compositions by means of lines rendered in pen and ink and used technical drawing equipment. In her final works from the 1980s, Mohamedi abandoned the grid, and began to compose geometric shapes, combining diagonal lines, triangles and spheres, suspended on an empty ground.

Throughout her career, Mohamedi produced photographs as a visual record of the places she visited. Although she never regarded them as works in their own right, today they stand as an important part of her oeuvre.

Mohamedi's diaries, filled with reflections on her work and personal life, attest to the link between her struggle for equilibrium and a disciplined commitment to her practice. The ephemera from her studio, which includes calendars, pages of letterset and magazine cuttings, along with notes, sketches and photographic experiments, reveal her working process and the way she developed a language that is both visual and conceptual.

Mohamedi's futuristic visions around the grid resonate in time and form with the utopian aspirations of the founders of the city of Milton Keynes itself, built in the late 1960s around a precise and repetitive geometry composed of vertical and horizontal lines. The city provides a fitting context for the artist's most substantial exhibition in the UK.

This exhibition is an expanded version of Nasreen Mohamedi: Notes – Reflections on Indian Modernism curated by Suman Gopinath and Grant Watson, and organised and initiated by the Office for Contemporary Art Norway in Oslo. It includes an additional section of works from the Artist's Estate and other collections, courtesy of Talwar Gallery, New York and New Delhi. A variation of this exhibition will travel to Lunds konsthall, Sweden.