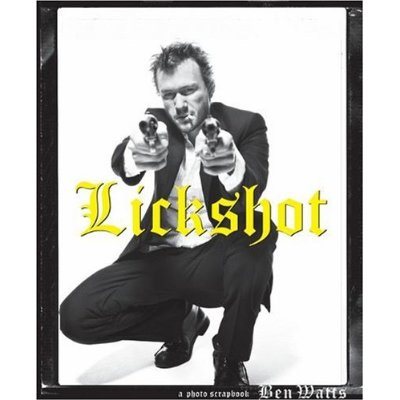 It's no wonder our 2003 Ben Watts monograph, Big Up, sold out before it was even released. Watts is internationally known for bringing the frenetic verve of street photography to his diverse body of work. Whether on location for Vanity Fair, Elle, Rolling Stone, or Nike, Watts's camera captures a feeling of barely contained, youthful energy and sucks the raw essence out of his subjects. Watts has an uncanny ability to simultaneously put his subjects at ease and amp up their adrenaline. His working process has as much in common with the call-and-response patterns in hip-hop music as it does with the traditional conventions of photography. He is always ready to swap his professional camera for a Polaroid so that his subjects can see the photos immediately and tag them with shout-outs or trash talk. His photo shoots are like block parties where his subjects drop their guard to reveal an honest sense of self-pride, and love of life.

Lickshot is Ben Watts's highly personalized scrapbook and travel diary. A triumph of lo-fi style, its pages are a delirious pastiche of gritty photographs, wonky Polaroids, and hand-scrawled graffiti, held together by slashes of colored tape. Its contents reflect the incredible variety of Watts's photographic subjects from high school ice skaters, Brooklyn biker gangs, and lounging sunbathers to world-famous actors, supermodels, and today's hottest musicians. Lickshot includes photos of Heath Ledger, Benicio del Toro, Tobey Maguire, Rachel Weisz, Guy Pearce, Adrien Brody, Bruce Springsteen, Lil Wayne, Lou Reed, Jay-Z, Coldplay, T.I., Alicia Keys, Snoop Dogg, Andre 3000,
B. B. King, Mary J. Blige, and Ben Harper. An interview with Watts by Vanity Fair editor Ingrid Sischy explores Watts's background and creative influences.
# Hardcover: 208 pages
# Publisher: Princeton Architectural Press; 1 edition (September 2, 2009)
# Language: English
# ISBN-10: 1568988389
# ISBN-13: 978-1568988382
# Product Dimensions: 11 x 9.1 x 0.9 inches