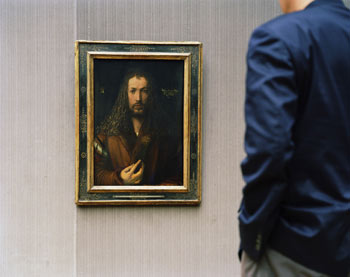 The Museum of Cycladic Art is proud to host the first solo exhibition in a museum in Greece, by the internationally acclaimed German photographer Thomas Struth. The exhibition will consist of a total of 29 works ranging from his whole body of work.

The exhibition includes photographs from his Streets and Landscape series, the Paradise series, and the acclaimed Museums and Chapels series. The Streets in the 70s with the black and white, small scale frontal, precise and objective photographs of deserted streets in Europe and America, is a series Struth worked on after studying at the Dusseldorf Academy with the Bechers. The exhibition includes a whole range of works like Dusseldorf, 1979, Corso Vittorio Emanuelle, Naples, 1988 and works from Struth's later cityscapes, where the viewer is confronted with an architectural scenery that in contrast to earlier work, is in large format, in colour and different moods are present like in the clear daylight of Avenida Tiradentes, Sao Paulo, 2001, and the hazy Nanjing XI LU, Shanghai, 1997. From the Paradise series, that consist of large format delicately detailed pictures of dense forests in Brazil, Japan, China, Australia, and Germany, the show includes a range from Paradise 01, Australia, 1998 to Paradise 26, Bougainville, Peru, 2003. And from the well-known large scale Museums and Chapels series, consisting of large-format colour photographs taken in the world's greatest museums and churches, of the anonymous audience admiring the masterpieces of the history of Western art, the exhibition contains the works like the well known Mailander Dom (Fassade), 1998; Mailand: San Zaccaria, Venice, 1995; Pergamon Museum, Berlin, 2003, among others.

Thomas Struth's work has been exhibited widely all over the world. Recent solo exhibitions include one man shows at SK Stiftung Kultur/Die Photographische Sammlung, Cologne (2008); the MADRE – Museo d'Arte Contemporanea Donna Regina, Naples (2008); De Pont Foundation, Tilburg (2008); the Prado, Madrid (2005), Museo de Arte de Lima, Peru (2005); Museum für Fotografie, Hamburger Bahnhof, Museum für Gegenwart, Berlin, and CACP Musee d'art contemporain, Bordeaux (2004). In 2002-2003 a U.S. retrospective exhibition toured from the Dallas Museum of Art, to MoCA, Los Angeles, to The Metropolitan Museum of Art, New York; and the MCA, Chicago.

Between June 2010 and 2012, a major retrospective exhibition of Struth's work will be shown at the Kunsthaus Zürich, the K20, Düsseldorf, Whitechapel Gallery, London and other venues.

Thomas Struth was born in 1954 in Geldern, Germany and now lives in Dusseldorf and Berlin.