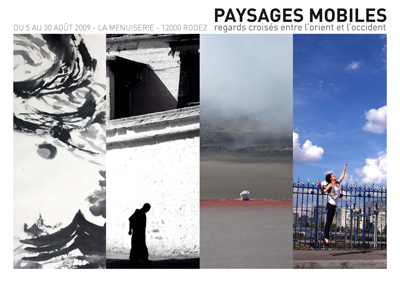 Expositions du 1/8/2009 au 31/8/2009 Terminé
La Menuiserie 14, rue du 11 novembre F-12000 Rodez France
"Accept to get naked and being observed oneself, is above all, accept what we are, what are the gaps, what are the weaknesses. The trip opens eyes to feel forgotten. It hurts, weary, disturbs the schedules carefully learned since childhood. Its purpose other's experience, human or landscape, the experience of solitude where each meeting makes sense. »France Demarchi

Offering several horizons of our cultural boundaries, this exhibition presents the singular space of the landscape, to interrogate it and to shake it, in its apparent stability, to reveal the invisible, to discover path accross and perhaps some utopian ...

Each artist with distinct cultures (Chinese, Italian, French, African) was placed in the context of a reference to human nature and space, using it to reflect on the process of manufacturing space. Xinxin Fang, France Demarchi, Maud Martin, Mame-Diarra Niang share their vision where perspectives evolve continuously, constantly transforming itself before our eyes, like a journey developing experience and critical exchanges.

Through accumulated feelings, the landscape is written, emerges and is described in the crosses of the body and time.

La Menuiserie is a place of the cultural development of the Urban Community of Grand Rodez in France. So that everyone can feel, integrate and appropriate a personal view of art and culture. La Menuiserie causes and promotes meetings between artists in action and people.

Artistic Director & Curator : Noémie Coudray

We organize an aperitif and meetings with the artists on Tuesday 11 August from 17h
and dinner in the presence of the artists on Saturday 22 August 2009 (participation: 15 euros Booking: 05 65 64 50 02).