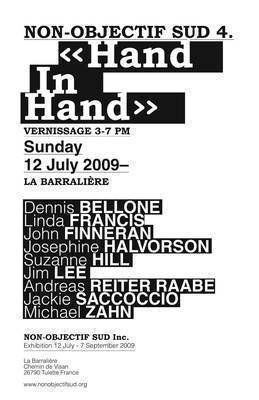 Expositions du 12/7/2009 au 7/9/2009 Terminé

Non-Objectif Sud, Inc. La Barraliere Chemin de Visan 26790 Tulette France


Hand in Hand

Non-Objectif Sud, Inc is pleased to present Hand in Hand, its exhibition for the summer of 2009, featuring the work of nine international artists working in various media. Embracing disparate approaches and an array of form, the works share affinities that are not immediately plain. With many of the works executed on site at La Barraliere, the individual artists engage specificity, convention, contingency, and duration to indite an uncommon orientation where awareness is externalized in unexpected ways. This particular type of embodiment, sensed as an abstract personalization of thought, couples an atypical realization of the works themselves to the palpable ground of their immanent presence. Hand in Hand tests the representation of reality by examining the underlying structure of what is seen, and proposes a material reconfiguration of what is shown.

Dennis Bellone is an artist who works in multiple mediums. He is represented in the collections of the Center Pompidou in Paris and S.M.A.K in Ghent.

Linda Francis is a painter who exhibits widely in the US and abroad. A survey of paintings and drawings was shown at the Sarah Moody Gallery of Art at the University of Alabama, and new work was recently seen at Minus Space Project Room and at Janet Kurnatowski Gallery in New York. Francis is represented in numerous public and private collections.

John Finneran's exhibition Night Fence, a group of paintings in oil and enamel on aluminum, was seen at Upstairs Berlin last fall. His work was the subject of two solo shows at Rivington Arms in New York.

Josephine Halvorson will exhibit new paintings this fall at Monya Rowe Gallery in New York and next spring at NT Gallery in Bologna. Her work was recently seen at Sikkema-Jenkins & Company, at Cuchifritos, and at Sue Scott Gallery, all in New York.

Suzanne Hill uses organic materials such as herbs, valued for their scent and taste, which are incorporated in non-traditional ways. Her 'Biome' works were installed in public spaces the two previous summers during a residency at the Fondazione Tolenti in Venice.

Jim Lee's second New York solo exhibition, Paranoid, an installation of painted objects and impermanent structures which altered the character of the gallery, was recently seen at Freight + Volume. Lee also curated Accident Blackspot for F+V last spring.

Andreas Reiter Raabe is an artist and educator whose projects including painting, photography, sculpture, and film have been seen at the Mies van der Rohe Haus in Berlin, at Christine Koenig Galerie in Vienna, and at Sarah Cottier Gallery in Sydney. His work is a part of Sammlung Daimler in Stuttgart and Berlin.

Jackie Saccoccio organized Blue Balls, an immersive collaborative installation seen last winter at APF Lab in New York. She has had solo shows of her paintings and wall drawings at Eleven Rivington Gallery in New York and at Galerie Michael Neff in Frankfurt, among others.

Michael Zahn's exhibition As Michael Zahn was seen at Eleven Rivington Gallery in New York last spring. Recent work was included this spring in exhibitions at Pharmaka in Los Angeles and at Gavin Brown's Enterprise in New York. He has organized the exhibition at Non-Objectif Sud for the summer of 2009 along with co-directors Andrew Huston and Karole Vail.