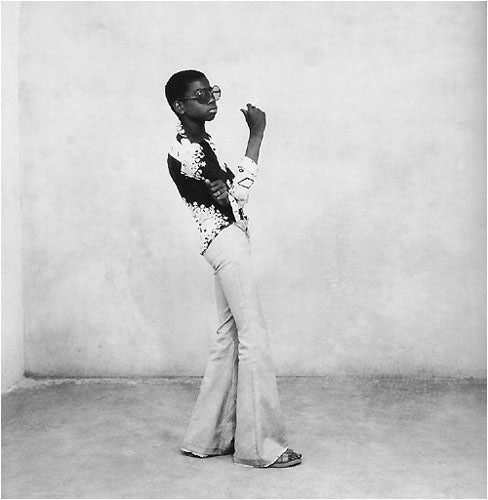 Expositions du 29/6/2009 au 31/7/2009 Terminé
HackelBury Fine Art Ltd. 4 Launceston Place W85RL London Royaume-Uni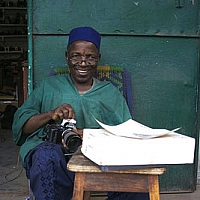 Winner of the Hasselblad prize 2003, the Golden Lion at the Venice Biennale 2007, ICP Infinity award 2008, and Baume & Mercier award at Photo Espagna 2009.

Malick Sidibé was born around 1935, in a small village in Mali. Because of his talent for drawing, he was encouraged by his school tutors to enlist in the school of Sudanese Craftsmen in Bamako where he studied jewellery and graduated in 1955. This is where he met Gerard Guillat, who was looking for a student to decorate his "Photo Service" shop and studio. He chose Malick for the job and when it was finished he asked him to stay as his apprentice.

Malick bought his first camera in 1956, and in 1958 he opened his own studio in Bagadadji, in the heart of Bamako, where he still works today. Like Seydou Keïta before him, Malick Sidibé started with studio portraits. But unlike his predecessor he soon became a street photographer and the only young reporter in Bamako at that time.

In the 60's and 70's Malick worked mainly with the burgeoning club scene of the young folk of Bamako. Clubs with glamorous names like "Les Cyclones", "Les Monkees" or "Les Chats Sauvages" were constantly sprouting up and were all the rage. Surprise parties in the evenings, river Niger on hot Sundays, football championships, boxing matches, and all sorts of events that Malick illustrated with moving photographs, lively snapshots, and leisure poses. Malick's photography studio itself became a hip hangout for Bamako's youth. Being a real inside-scenester, Malick was entrusted by his clients to photograph them at all times.
Malick Sidibé's pictures reflect the convivial and carefree atmosphere of a post-colonial African capital. But beyond that they are simple, spontaneous, yet extremely beautiful images, illustrating moments of truth and complicity. They reveal Malick Sidibé's love of people and his passion for photography and allow us to witness another face of Africa. Recent exhibitions of Malick Sidibé's work include the Deitch Projects, New York and the Museum of Contemporary Art, Chicago both in 1999. A vintage show at the Jack Shainman Gallery, New York, as well as the "You look beautiful like that" show at the Hammer Museum, UCLA, Los Angeles and at the Fogg Museum, Harvard University; all in 2002.

There was a major retrospective of his work at the National Portrait Gallery, London, alongside fellow Mali photographer Seydou Keïta, in 2003. This was also the year that Malick was awarded the prestigious Hasselblad Prize. Since then he has continued to be exhibited and added to public and private collections worldwide, and in 2007 became the first photographer to be awarded the Lion d'Or for Lifetime Achievement at the Venice Biennale.