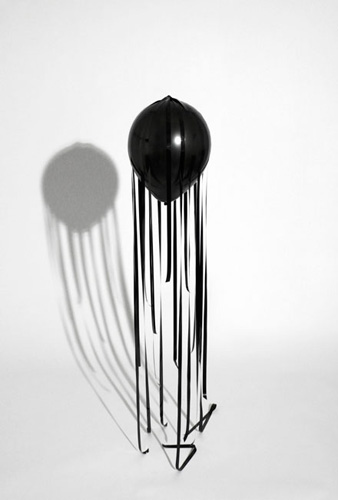 Expositions du 10/6/2009 au 11/7/2009 Terminé
Stills Gallery 36 Gosbell Street, Paddington NSW 2021 Sydney Australie William Lamson is a Brooklyn based artist, interested in photography, sculpture and performance. Using simple materials he creates structures and scenarios full of pathos and humour.

With a 24-minute video of 33 short performances and accompanying photographic images, Lamson's series Actions documents the fates of numerous ill-fated black balloons. In contrast to his "scientific" approach, invoked by a stark white background and serious demeanour, the equipment and activities he depicts are unsophisticated and somewhat improbable. His understated "Actions" employ low-tech props such as darts, ropes and pellet guns, or simply gravity's unavoidable pull, and more often than not end badly for the balloons.

Lamson combines the amateur's meager budget and compensatory surfeit of imagination with the whimsical and haphazard nature of helium balloons, to create a dialogue of both hope and failure. By enacting a series of grand, though often self-defeating experiments, his work addresses the universality of human struggle and how we create meaning through adversity. With his fictional explorations, Lamson hopes to elicit the sense of hope, possibility and wonder that motivates amateurs and artists alike.