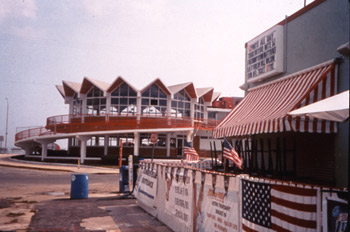 Expositions du 30/5/2009 au 12/7/2009 Terminé
Portikus Alte Brücke 2 / Maininsel 60594 Frankfurt Allemagne Dan Graham Presents New Jersey displays new photographs by Dan Graham, produced in collaboration with the architecture faculty of Columbia University in New York, alongside photos of the series Homes for America from 1966. The photos were already taken in the early 1960s in the style of an amateur or photojournalist with an inexpensive and wieldy Kodak camera. They depict suburban homes, commercial premises and urban fringe zones in New Jersey, places that show the common and unspectacular, but also uniform America. Graham notes: "I bought an Instamatic, the cheapest fixed-focus camera. At one point the gallery was running into debt and I had to leave and stay with my parents outside of New York. On the way, the train went through a low-income suburban area. It struck me that with no money I could still walk along the railroad and photograph what I saw. I was always interested in 'upper-' and 'lower-class' housing, because I grew up in a similar situation." In 1966, pictures of this series were shown for the first time as a slide show in the exhibition Projected Art at Finch College Museum of Art in New York. "Suburbia was discussed a lot in the early 1960s in magazines like Esquire. Sociologists like David Riesman talked about the 'lonely crowd', people who were conformist and unhappy in small suburban towns. In music this was reflected in the Kinks' song 'Mr Pleasant' and The Beatles' 'Nowhere Man'," Graham continues. As already mentioned, Homes for America was published that same year as a photographic essay with text elements commenting on parts of the pictures in the American Arts Magazine and then in Esquire. A decision, through which Graham, on the one hand, attempted to achieve the widest possible distribution of his photos and, on the other, countered the monopoly of established institutions and galleries in a targeted way.

The photo series from 1966 is now reflected by a four-day excursion through New Jersey with the architecture faculty of Columbia University New York. For this series, Dan Graham visited some of the same places in suburban New Jersey adjacent to New York City that can be seen in his photographs from the 1960s. With these works, Graham captured a zeitgeist that could also be seen in works of his colleagues, who worked in the context of Minimal Art and gave rise to a permanent situation of mutual influence: "In Donald Judd, Dan Flavin and in a certain sense also in Sol LeWitt, I saw an important manifestation of suburbia. So I wanted to draw attention to the current situation in the suburbs and noticed especially with Sol LeWitt that he alluded to the geographical network of the city. I also believe that the influence of Godard and Antonioni was very big."

The focus of both the older and more recent photographs is on dealing with seriality, standardization, continuity and popular culture. The recurring interest in revaluing the everyday finds its precise form here, tied to question related to the individual perception of social space and the creation of space by social groups. In Graham's works, architecture is presented as the manifestation of societal space. He uses the urban surface as an information medium: "The context is very important. I wanted my piece to be about place as information which is present."
Opening: May 29, 2009, 8 p.m.
Duration: May 30 -- July 12, 2009
Lecture by the artist at Portikus: May 31, 2009, 5 p.m.