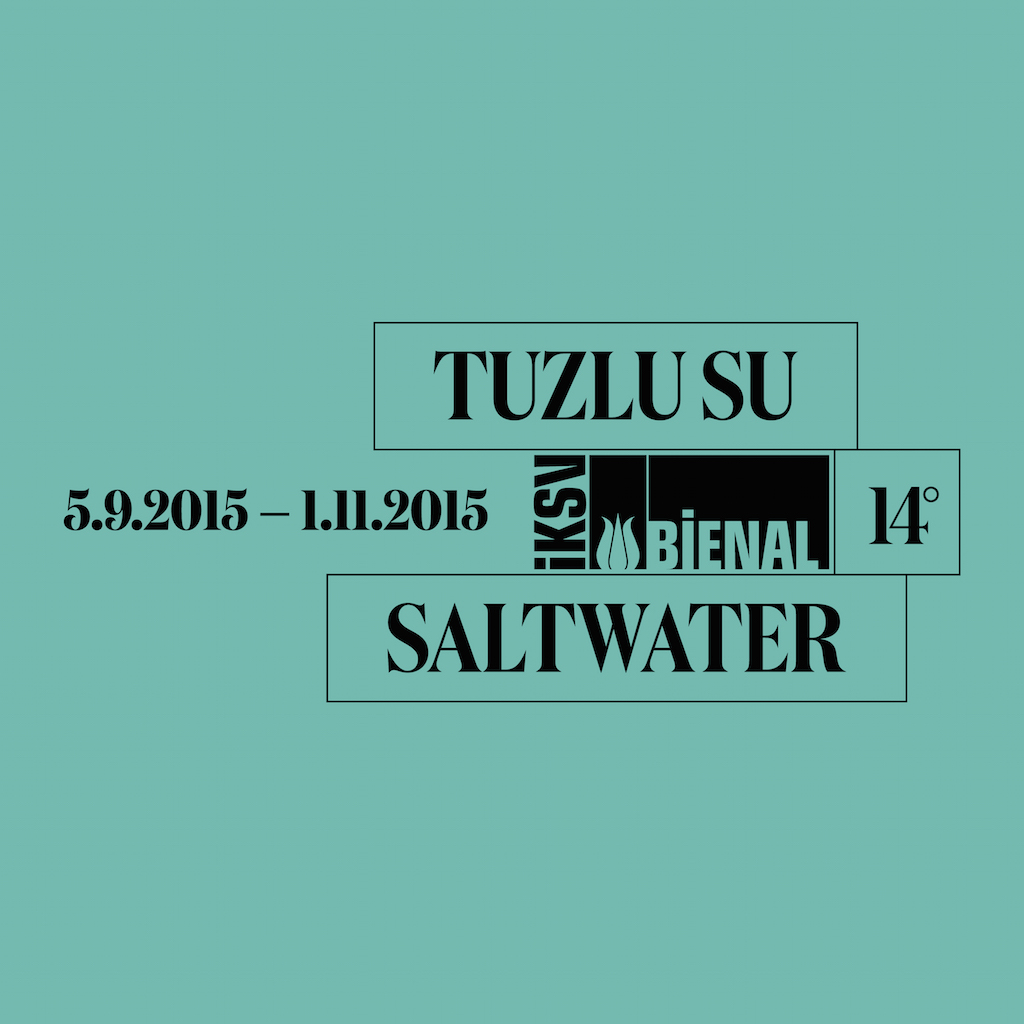 © Istanbul Biennial
Professional preview: 3 - 4 September 2015.
The 14th Istanbul Biennial takes at least three days to visit fully. Works by over 80 participants from Africa, Asia, Australia, Europe, the Middle East, Latin America and North America, are displayed in over thirty venues on the European and Asian sides of the Bosphorus. SALTWATER takes place in museums as well as temporary spaces of habitation on land and on sea such as boats, hotels, former banks, garages, gardens, schools, shops and private homes.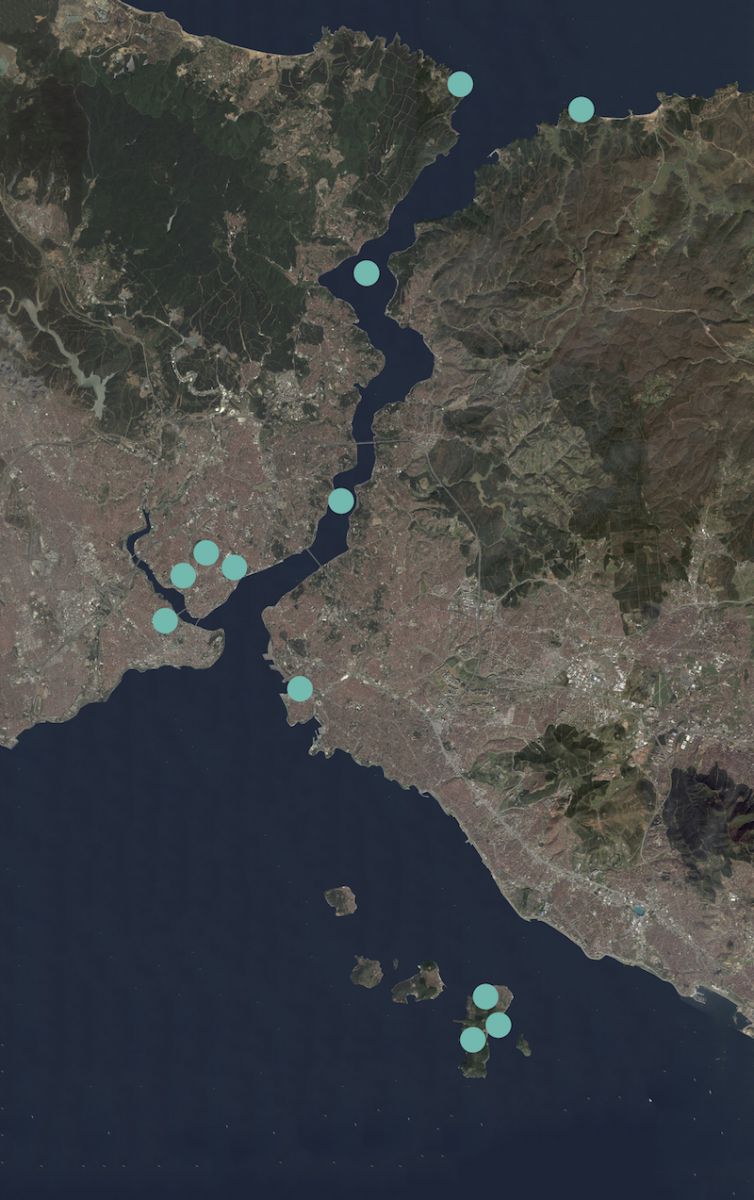 General Map of Biennial Venues
© 2013 CNES / GeoEye / Earthstar Geographics / DigitalGlobe
Carolyn Christov-Bakargiev states, "
Salt water is one of the most ubiquitous materials in the world. Sodium in our bodies makes our neurological system, and thus our vital systems, work; it literally keeps us alive. At the same time, salt water is the most corrosive material threat to the digital age: if you drop your smart phone in fresh water, you can dry it and it will probably work again. If it falls into salt water, chemical molecular changes in the materials of your phone will break it. When you visit the 14th Istanbul Biennial, you will spend quite a bit of time on salt water. There is a slowing down of the experience of art due to the travel between venues, especially on ferries. That is very healthy: salt water helps to heal respiration problems and many other illnesses, as well as calming the nerve
s.
This sprawling exhibition spans from Rumelifeneri on the Black Sea, where Jason and the Argonauts passed searching for the Golden Fleece, through the winding and narrow Bosphorus, a seismic fault line which opened as a water channel some 8500 years ago, and down to the Princes' Islands in the Sea of Marmara towards the Mediterranean, where ancient Byzantine emperors exiled their enemies and where Leon Trotsky lived for four years from 1929 to 1933. It presents over 1500 artworks, some very tiny, including over fifty commissions by artists as well as other visible and invisible manifestations such as materials from the history of oceanography, environmental studies, marine archaeology, Art Nouveau, neuroscience, physics, mathematics and theosophy. Works range historically from an 1870 painting of waves by Santiago Ramón y Cajal, who received a Nobel prize in 1906 for discovering the neuron, to the ground-breaking abstract Thought Forms of Annie Besant and Charles Leadbeater (1901-1905), up to a new installation by Aslı Çavuşoğlu which reflects on an ancient and lost Armenian technique for extracting red dye from an insect, and a new multichannel installation by William Kentridge inspired by Trotsky's passage through Turkey
."
The 14th Istanbul Biennial is drafted by Carolyn Christov-Bakargiev. Interlocutors and alliances include Anna Boghiguian, Aslı Çavuşoğlu, Cevdet Erek, Pierre Huyghe, Emre Hüner, William Kentridge, Marcos Lutyens, Chus Martínez, Füsun Onur, Emin Özsoy, Griselda Pollock, Michael Rakowitz, Vilayanur S. Ramachandran, Arlette Quynh-Anh Tran, and Elvan Zabunyan.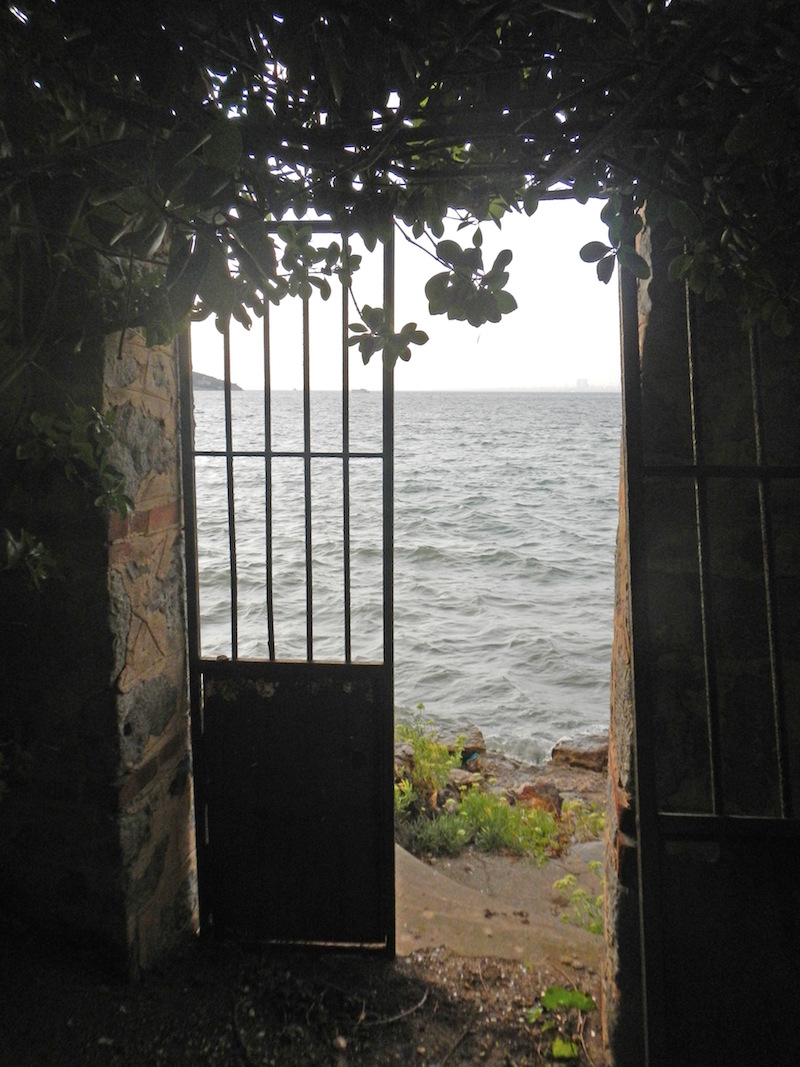 Büyük Ada, August 18, 2014
© Francis Alys
Novelist Orhan Pamuk is the Honorary Chairman of the International Council of Friends and Patrons of the 14th Istanbul Biennial. The Istanbul Biennial advisory board members include Adriano Pedrosa, Başak Şenova, İnci Eviner, Iwona Blazwick, and Ute Meta Bauer.
The 14th Istanbul Biennial is organised by the Istanbul Foundation for Culture and Arts (İKSV) and made possible thanks to the sponsorship of Koç Holding. Admission to the 14th Istanbul Biennial is free of charge in all venues except the Museum of Innocence. The Istanbul Biennial receives further patronage from a number of other supporters, international funders, and funding bodies. These include, amongst others to be announced, DAI Dilijan Art Initiative - IDeA Foundation, SAHA - Supporting Contemporary Art from Turkey, Australia Council for the Arts, Mathaf: Arab Museum of Modern Art (Qatar Museums), Acción Cultural Española (AC/E), Mondriaan Fund, Canada Council, British Council, The Henry Moore Foundation, Culture.pl, Italian Institute of Culture in Istanbul, Institut français, Office for Contemporary Art Norway (OCA), Arts Council Norway, Fondazione Sandretto re Rebaudengo, Schering Stiftung, Fiorucci Art Trust, Schwarz Foundation, Dena Foundation for Contemporary Art, Outset Contemporary Art Fund, Kadist Art Foundation.
More informations on http://bienal.iksv.org/en".