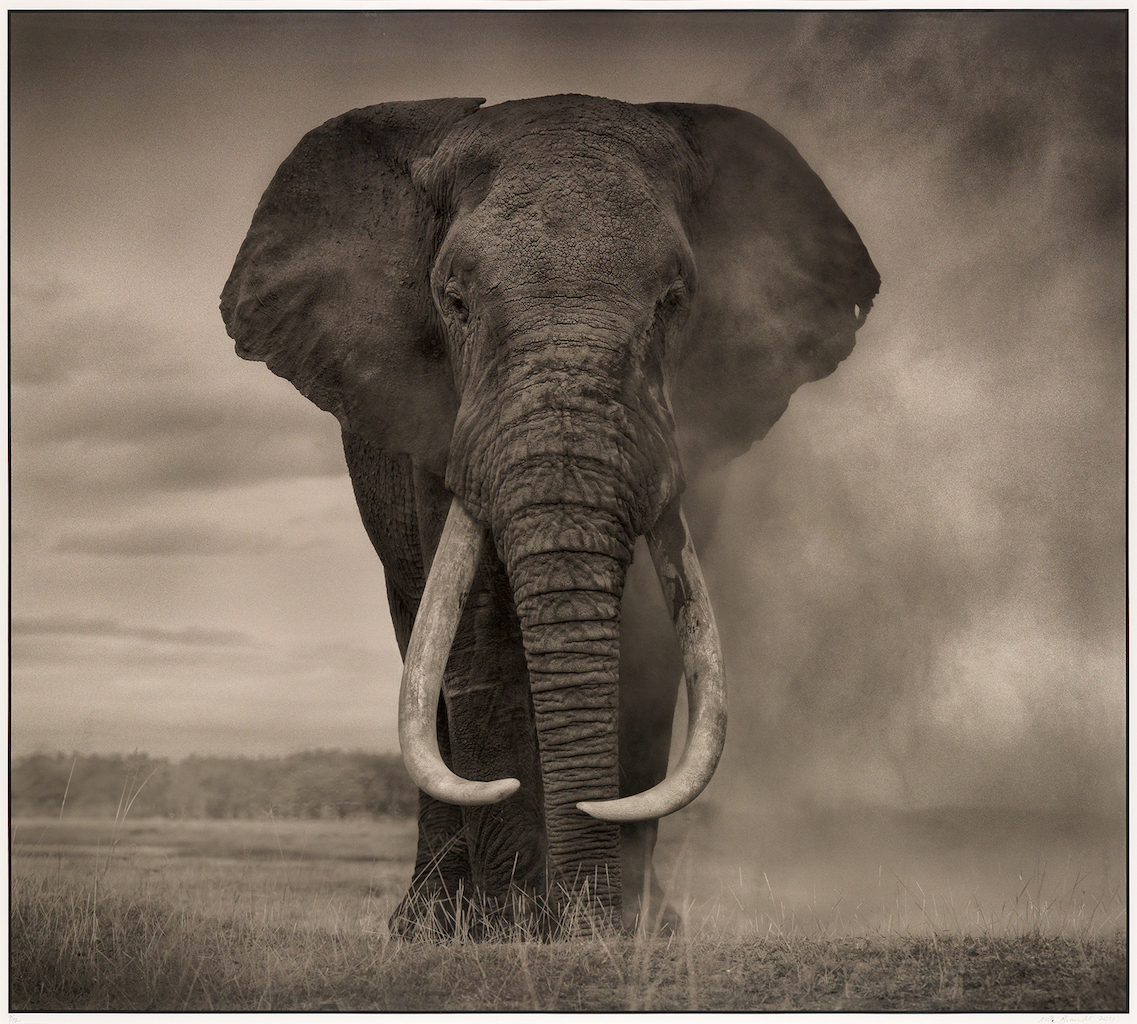 © Nick Brandt, Portrait of Elephant in Dust, Amboseli, archival pigment print, 2011. Estimate $40,000 to $60,000.
Ventes du 21/5/2015 au 21/5/2015 Terminé
Swann auction Galleries 104 East 25th Street 10010 New York États-Unis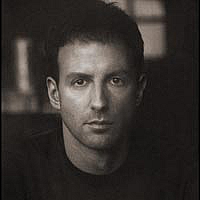 Swann Galleries' auction of Images & Objects: Fine & Vernacular Photographs on Thursday, May 21 features a range of works, from very early daguerreotypes to striking large-scale contemporary photographs.
Headlining the sale is a full set of the 20 bound volumes of Edward S. Curtis's The North American Indian. Printed on Japan vellum and with the signatures of both Curtis and Theodore Roosevelt in volume one, the present set is number 63 of an intended 500 copies, printed from 1907-30, of which only approximately 275 were bound. Swann's Photographs Department notes "Curtis's masterwork represents a unique conversion of the emerging art of fine art photography, the documentary idiom and the sophistication of artisanal bookmaking." The pre-sale estimate for this set of 20 volumes is $250,000 to $350,000.
Other important early photobooks include Alfred Stieglitz's Photo-Secession, 1904 ($6,000 to $9,000); Camera Work Number 34/35, 1911 ($4,000 to $6,000) and Camera Work Number 36, 1911, a copy inscribed by Stieglitz to his friend Waldo Frank, an American novelist, historian and social critic ($20,000 to $30,000).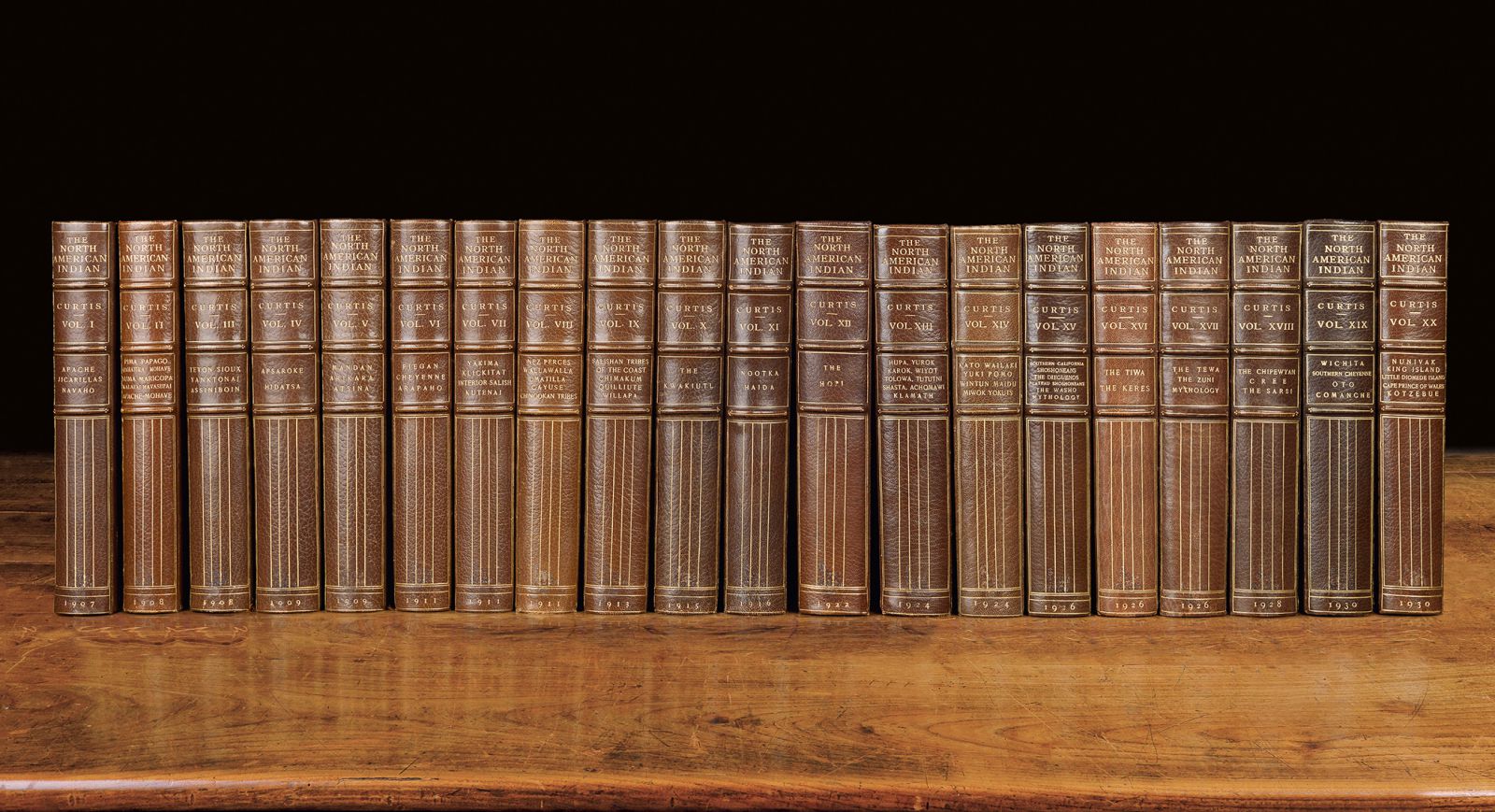 © Edward S. Curtis, The North American Indian,
volumes 1-20, first volume signed by Curtis and Theodore Roosevelt, 1907-30.
Estimate $250,000 to $350,000.
A section of the sale is devoted to exotic travel images, with two important groups of photographs by Felice Beato: one of pre-industrial, feudal Japan, the other of Delhi, Agra and Lucknow in India, both from the mid-nineteenth century ($15,000 to $25,000 and $10,000 to $15,000, respectively). A never-before-seen set of 50 platinum prints by Frank A. Rinehart from the Trans-Mississippi and International Exposition in 1898 presents a rare and possibly unique opportunity to view Rinehart's body of work as a significant visual document of Native American culture as it transitioned into the twentieth century. The present photographs have been passed down through family from the original owner, Gurdon Wallace Wattles, the organizer and chairman of the exposition ($30,000 to $45,000).
The auction will begin at 1:30 p.m. on Thursday, May 21. The photographs will be on public exhibition at Swann Galleries Saturday, May 16, Monday, May 18, Tuesday, May 19 and Wednesday, May 20 from 12 p.m. to 5 p.m.; and Thursday, May 21, from 10 a.m. to noon and by appointment.