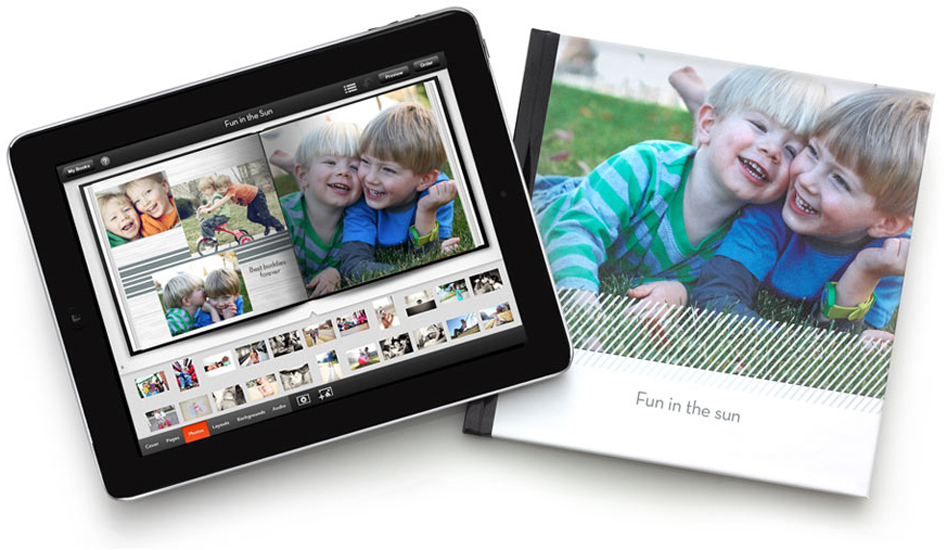 the market leader in digital personalized photo products and services, today announced the release of Shutterfly Photo Story, a new, free iPad application that allows users to create one-of-a-kind photo books in just minutes. Photo Story uses multimedia features to bring stories to life, including first-of-its-kind digital audio recordings that can be shared via a QR code included on the printed photo book and easy digital sharing. This new iPad app from Shutterfly, the leader in photo books, combines photos, sounds, and gesture-based cues to make it simple to create photo books that users can share digitally or as a printed keepsake.
"For more than a decade, Shutterfly has helped millions of customers tell their stories in photo books," said Karl Wiley, General Manager of Shutterfly. "Shutterfly Photo Story represents the next generation of photo books, giving consumers a dynamic way to share their stories anytime, anywhere."
A Multimedia Photo Book
Shutterfly Photo Story pulls photos from Facebook, Instagram, Shutterfly and iPad photo stream. This iPad app also includes an audio feature, which allows users to record 30-second audio messages to accompany each page of the photo book. Shutterfly Photo Story photo books are available in 10 unique design styles and three different sizes.
Once a photo book is created with Shutterfly Photo Story, users can share it via email and Facebook, and order a hard copy. Printed photo books can be brought to life with sound by simply scanning the QR code on the back of the book. The QR code accesses the digital version of the book and includes embedded audio messages.


More Mobile Solutions from Shutterfly
With over 2 million iOS app downloads, Shutterfly also recently released updates to the Shutterfly for iPad app, adding commerce capabilities, popular photo filters and enhanced photo viewer. Consumers can now view their photo book projects at full screen resolution on their iPads without having to enter into a creation path.
Shutterfly's mobile offerings also include the recently updated Shutterfly for iPhone app with product creation and the Shutterfly for Android app with the ability to view and upload photos.
http://www.youtube.com/embed/7OTi7w4vFH0?feature=player_detailpage"