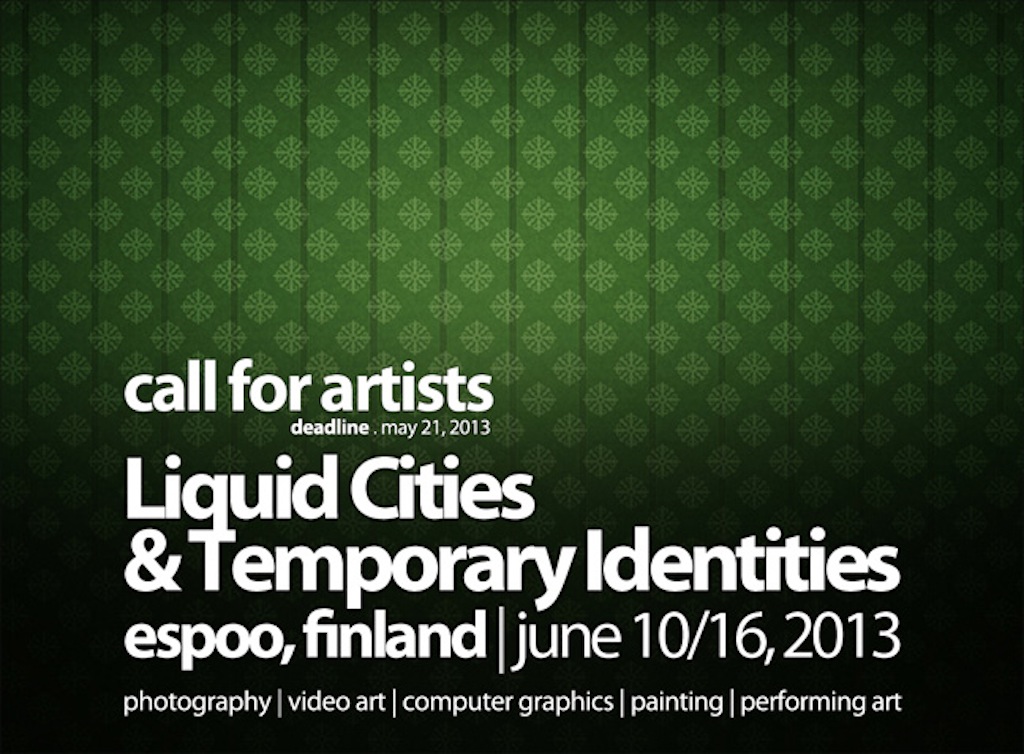 Concours du 13/5/2013 au 21/5/2013 Terminé


Photography / Video Art / Computer Graphics / Painting / Performing Art
Deadline: May 21, 2013

Prize: 1 International Exhibition organized by International ArtExpo

International ArtExpo is selecting all interesting photo works, video/short films, computer graphics works, paintings and performances to include in the next 2013 Exhibition:

Liquid Cities & Temporary Identities - International Art Festival of Photography, Video Art, Computer Graphics, Painting and Performing Art held in Espoo (Finland), at Espoonsilta Gallery from the 10th June to 16th June 2013.

Espoonsilta Gallery is an artist run, non-profit contemporary art scene in the Center of Espoo (Finland) since 2006. Dedicated to contemporary art and music happenings, the gallery acts on local, national and international level.

The selection will be based on the main concept of hybridization between identities and urban environment, as the result of liquid identities and liquid contacts between people. People, backgrounds, societies, progress and all their inputs creates hybrid identities, modifying each other and being mixed in prospect to shape a better world. Mixing sustainable transport; modern (ICT) communication infrastructure; sustainable economic development; and wise management of natural resources, human, intellectual and social capital, is the key to reach a future better life quality.

After the event, our organization will select the winning artist of 1 International art exhibition organized by International ArtExpo.

International ArtExpo is a not for profit organization that provides a significant forum for cultural dialogue between all artists from different cultures and countries. ArtExpo is grateful to all of the institutions, corporations, and individuals who support our artistic projects. We work with a number of national and international galleries as well as publishers, museums, curators and critics from all over the world. We help artists through solo and group exhibitions, gallery representation, magazine reviews and advertisements, press releases, internet promotion, as well as various curatorial projects.
Conditions de participation



To take part in the selection, send your works submissions with a CV/biography, videography and some still images (only for video artists), some samples of works (only for artists) via email to lucacurci@lucacurci.com or via mail to:

International ArtExpo
Corso Vittorio Emanuele II, 33
70122 Bari, Italy

The number of works you can submit is unlimited. The participation in the International Art Festival requires an entry fee only for selected artworks. Participation open to: artists, architects and designers, associate groups and studios.