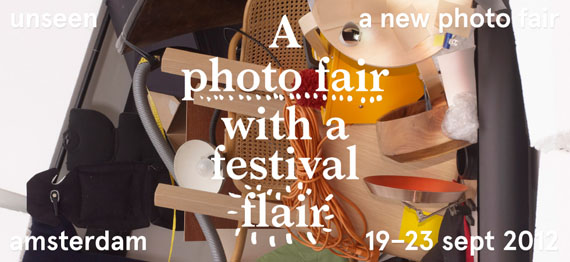 Unseen
19 - 23 September 2012
http://photography-nowcom.createsend1.com/t/j-l-girtyy-ydkrvdy-j/"
Welcome!

Unseen, a photo fair with a festival flair, that will take place from 19 to 23 September in Amsterdam's Westergasfabriek. A selection of 50 international galleries will present high-quality work by emerging talents and established photographers. The unique accompanying programme will include films, lectures, a book fair of indepedent publishers, evening activities and much more. Tickets can now be purchased online.


LATEST NEWS

UNSEEN COLLECTION REVEALED The Unseen Collection is a unique collection of work contributed by galleries participating in the Unseen Photo Fair, on sale for less than 1,000 euros. The collection has increased to include more than 80 works, instead of the anticipated 60. We have revealed the first works of the collection, and will continue to do so until the fair. Want to know more about collecting photography? Sign up for the photography collecting workshops at Foam on 3 and 4 September.
http://photography-nowcom.createsend1.com/t/j-l-girtyy-ydkrvdy-j/"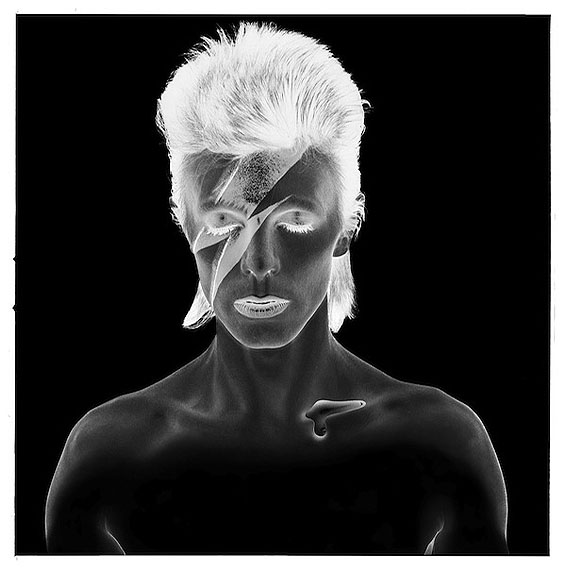 Aladdin Sane, 1973: Black & White Negative Remastered, 2011 © Brian Duffy/Gallery Vassie


A COLLECTOR'S FIRST PURCHASE We would like to introduce the first of a series of short videos featuring collectors and their first photography purchase. Under the title, A Collector's First Purchase, a number of aspiring and established collectors share their first experiences buying photographs. In the first film, Amsterdam-based strategist, James Wilkins, tells us about the personal connection he has with his first photograph, about building one's collection and tips for first-time buyers. The series will continue with more insights into the world of collecting. More videos can be found on Unseen's YouTube channel.


FASHION! PHOTOGRAPHS FROM THE CAMERA WORK COLLECTION The special exhibition that will take place during Unseen will be Fashion! Photographs from the Camera Work Collection, made possible by the Blockbusterfonds. This exhibition will give an overview of a century of fashion photography and includes work by Edward Steichen, Steven Klein and Helmut Newton. The selection of photographs from the collection of Camera Work will be exhibited in the Zuiveringshal West from 20-23 September. In addition, Unseen is giving visitors of Fashion's Night Out (13 September) the opportunity to get free tickets for the exhibition. Stay tuned for more information on our website.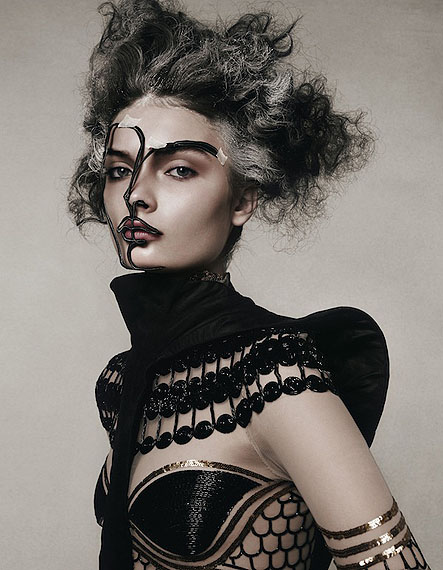 Face Project I, 2007 © Tina Berning and Michelangelo Di Battista/Camera Work Gallery, Berlin

DUTCH DOC PRESENTS END OF EGO On Thursday 20 September, Dutch Doc, the independent foundation for documentary photography, will host the lecture/talkshow evening, End of Ego. At the Unseen Speakers' Corner in the MC Theater, Fred Ritchin, professor of Photography & Imaging at New York University's Tisch School of the Arts and Director of Pixelpress, will discuss his latest book, Bending the Frame, on issues of media and social justice (to be released in the fall). Stay tuned for an announcement of the three international speakers who will join the discussion.


Réagissez à cet article