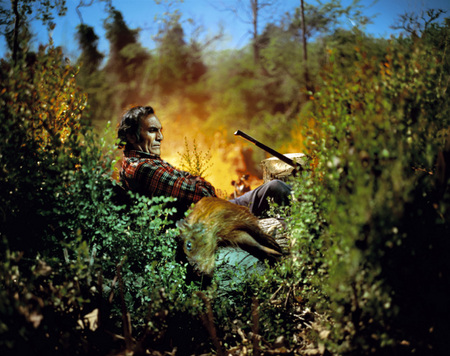 The Hunter © Alejandro Chaskielberg
Argentinean photographer Alejandro Chaskielberg has tonight, 27 April 2011, been announced as this year's winner of the illustrious L'Iris D'Or, the 2011 Sony World Photography Awards Photographer of the Year. Over 105,000 images were entered into the 2011 competition from 162 countries. Chaskielberg was presented with the award during the Sony World Photography Awards Gala ceremony at the Odeon Leicester Square. Chaskielberg was chosen as the winner of the L'Iris D'Or by a panel of 12 judges. In addition to winning a $25,000 cash prize plus Sony digital SLR camera equipment, he joins previous L'Iris d'Or winners David Zimmerman, Vanessa Winship and Tommaso Ausili as a member of the World Photographic Academy. Previously held at Cannes' prestigious Palais des Festivals, this is the first year that the awards have been held in London.
The Sony World Photography Awards Open Photographer of the Year title was awarded to Chan Kwok Hung for his stunningly dramatic image 'Buffalo Race'. The 37 year old jewellery manufacturer from Hong Kong was at the awards ceremony to collect his $5,000 cash prize as well as Sony digital SLR camera equipment. Chan purchased his first SLR camera in 2006 and using books and the internet taught himself basic photography skills. He began to develop a passion for travelling to undeveloped places, and hearing about the buffalo race, Chan made a special trip to Indonesia in search of his spectacular image. After an early start and hours of waiting, Chan's patience paid off, and what he describes as an unforgettable trip culminated with his winning photograph.
Outstanding Contribution. A further highlight of tonight's gala ceremony was ground-breaking photographer Bruce Davidson receiving the Outstanding Contribution to Photography Award. Davidson, 77, has a career spanning more than half a century, and is one of America's most distinguished photographers. An exhibition of his work is being shown as part of the World Photography Festival at Somerset House. The exhibition, selected by Bruce Davidson with Simon Baker, curator of photography and international art, Tate, will include some of his most famous works from the East 100th Street and Circus collections.
Student Focus. Tonight's Leicester Square event also saw student photographer Louis Boulet from École Nationale Supérieure Louis Lumiere, France announced as the winner of the Student Focus award. Recognised as the world's most high-profile student photography prize and open to universities worldwide, Louis fought off fierce competition from entries from over 200 institutions across six continents. Created in partnership with the Young Tate Online, Tate's digital programme for young creative's, photographers from each of the shortlisted institutions were given one month to produce a series of images on the subject of 'Actions speak louder than words' with Sony Alpha cameras. Having been flown to London to receive his prize, Louis has been awarded approximately 45,000 Euros worth of Sony digital imaging equipment for his school.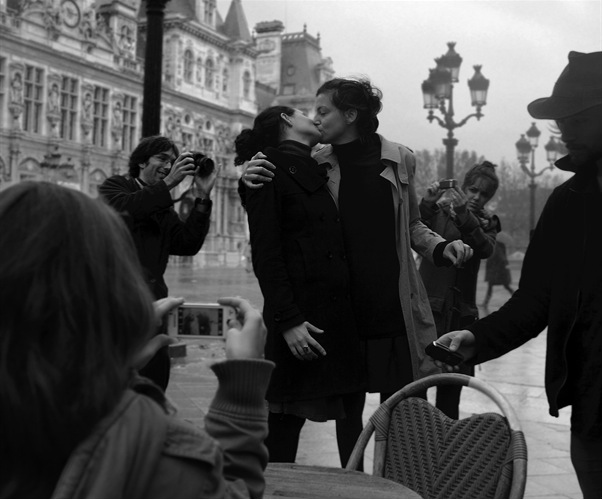 © Louis Boulet
Chosen by the 2011 Honorary Judging Committee, chaired by Francis Hodgson, the professional category winners are:
PHOTOJOURNALISM & DOCUMENTARY. Current Affairs : Winner: Javier Arcenillas (Spain) / 2nd: Robin Hammond (New Zealand) / Panos / 3rd: Ahmad Masood, (Afghanistan) / Reuters.
Contemporary Issues: Winner: Javier Arcenillas (Spain) / 2nd: Christian Lutz (Switzerland) / Agence VU / 3rd: Balazs Gardi (Hungary) / basetrack.org.
People : Winner: Alejandro Chaskielberg (Argentina) / Michael Hoppen Gallery / 2nd: Denis Rouvre (France) / 3rd: Lucia Herrero (Spain).
Sport: Winner: Pavel Wolberg (Israel) / 2nd: Javier Arcenillas (Spain)/ 3rd: Palmer + Pawel (United Kingdom).
Arts and Culture :Winner: Amit Madheshiya (India)/ 2nd: Tommaso Bonaventura (Italy° /3rd: Mahesh Shantaram (India).
COMMERCIAL. Campaign : Winner: Adam Hinton (United Kingdom) / Saatchi & Saatchi/ 2nd: Richard Bailey (United Kingdom) / 3rd: Tomg Meng (China).
Travel : Winner: Liz Loh-Taylor (Australia) / 2nd: Javier Arcenillas (Spain) / 3rd: Andrew McConnell (Ireland) / Panos.
Lifestyle / Winner: Saja Seus (Germany) / 2nd: Frank Bayh & Steff Rosenberger-Ochs (Germany) / 3rd: Fabrizio Cestari (Italy).
FINE ART. Architecture : Winner: Alnis Stakle (Latvia) / 2nd: Frank Meyl (Germany) / 3rd: Frank Bayh & Steff Rosenberger-Ochs (Germany).
Portraiture : Winner: Alain Willaume (France)/ Tendance Floue /Galerie Vu / 2nd: David Kretschmer (Germany) / 3rd: Paolo Verzone (Italy) / Agence VU.
Landscape: Winner: Florence Iff (Switzerland) / 2nd: Guido Castagnoli (Italy) / Periscope Creative / 3rd: Frank Day (United States).
Still Life: Winner: Renhui Zhao (Singapore) / 2nd: Peter Franck (Germany) / 3rd: Charles Emerson (United Kingdom).
Conceptual: Winner: Paul Gisbrecht (Germany) / 2nd: Ana Cop (Canada) / 3rd: Zhongyin Gao (China).