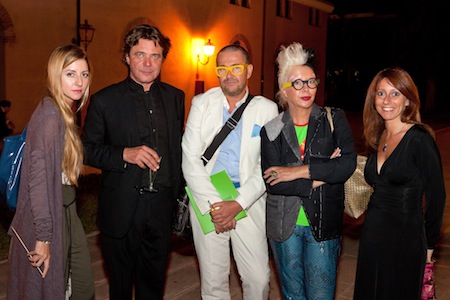 During the opening of the thirteenth edition of the OPEN on monday, in the evocative location of San Servolo island, was nomenee the winner of the Special Prize Arte Laguna.

Alberto Gianfreda, artist Fine Art Accademy of Brera, has been awarded from the eclectic French artist Orlan. Alberto Gianfreda has the possibility to be one of the finalists of Arte Laguna Prize 2010 and he has also the opportunity to exhibit in the Italian network of Italian and international art galleries partners of the association.

Igor Zanti, curator of the Arte Laguna Prize, explain this jury choice: "We have chosen to awarded the Alberto Gianfreda work for the interesting use of recycled materials and the strong sense of morphological adaptation of the installation, establishing a dialogue and exchange with the surrounding environment. It gives an effect of creation, closely linked to the physical space where the sculpture is set and it reveals a richness of meanings that brings situationist experiences as typical research of historical evolution of land art. " This is only the first stage of the important collaboration between the Arte Laguna Prize and OPEN, the International Exhibition of Sculptures and Installations, which is held every year in Venice during the Venice International Film Festival. synergy between Arte Laguna and OPEN, two organizations engaged in discovering and promoting new emergent artists, produces a threefold opportunity for artists participating in the Arte Laguna Prize.

For the 2010, OPEN invited to exhibit in Venice from the 1st September to the 3rd October - Theodore Reeves-Evison, Olga Schigal and the duo Dario Tironi – Koji Yoshida, the four young sculptors chosen from the finalists of the Arte Laguna Prize 2009 they proposed the three new works for this event.

For the 5th edition of International Art Prize Arte Laguna, deadline 16th November 2010, the Special Prize "OPEN" will be assigned to two of the sculpture section finalists, in this way they will have the opportunity to participate in the fourteenth edition of OPEN to be held in September 2011. The International Exhibition of Sculptures and Installations OPEN - conceived and curated by Paolo De Grandis, co-curated by Carlotta Scarpa, Arte Communications - now into its thirteenth edition. Thirty-six artists are measured with spaces in Lido and San Servolo island in Venice to define the place both physical and mental, suggestive residue in personal memory and collective experience, opening each year for the viewer to a new path in the contemporary art world, a new open air setting and a new reflection on the art languages.