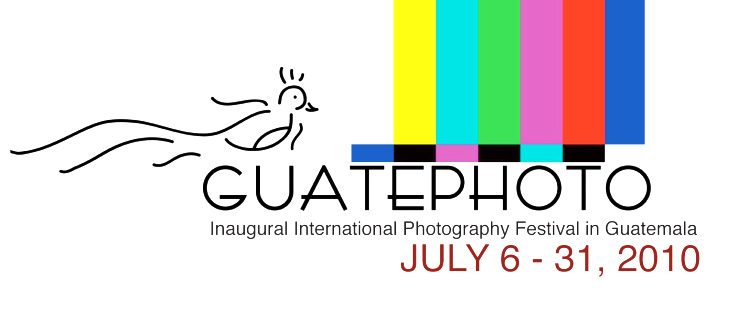 Concours du 8/3/2010 au 28/5/2010 Terminé


GuatePhoto will open its doors to all photographers from the international coummunity to send a series of 5-15 images. Of all the work received 15 photographers will be chosen to be a part of a collective exhibition to be shown at the Museum of Modern Art Carlos Merida from 6-31 of July, 2010. Entries will be received until friday may 28th, 2010. No entries will be accepted past this date.

The final decision of the curatorial team will be announced on monday june 8 through GuatePhoto official website. www.guatephotofestival.com

The 15 chosen photographers will be informed via email and also they will be posted on GuatePhoto's website.

All of the printing and mounting costs will be covered by GuatePhoto.

In order to participate its necessary to fill out the form on the website, upload your images and pay $15 of entry fee.

All images must be uploaded in the following format:
- JPG
- 800 pixels on its shortest side
- File must NOT exceed 350kb
- 72 dpi of resolution
Images that are not in the above described format will not be able to be uploaded.

CONTEST

There will be a grand prize granted by the curatorial team to the best portfolio. In addition the best three portfolios will be awarded the opportunity to show their work on Visura Magazine. The final decision will be announced on the inaugural day of the festival that will take place in the Museum of Modern Art Carlos Merida on the 6th of July, 2010. The decision of the jury is final.

Grand Prize - Digital Camera, Printer and Solo Exhibit at a recognized art space.

CURATORS

Clara de Tezanos: Internationally awarded and recognized photographer, Clara is the co-Founder of La Fototeca Guatemala. Clara began her photographic career at an early age, after studying at Parsons in France and SPEOS she began working in Paris for three years. Clara now lives and works in Guatemala. In the past years, she has participated in numerous group exhibitions.

Adriana Teresa: Co-Founder of FotoVisura and Visura Media, Adriana Teresa is an emerging visual artist and curator. Publisher, Creative and Editorial Director of Visura Magazine, producer of projects like Visura Spotlight and the FotoVisura Latin American Pavilion during the New York Photo Festival. Adriana seeks to promote an international community within the visual arts.

Juan Jose Estrada: International photographer and co-Founder of La Fototeca Guatemala. Juan Jose studied photography in Guatemala and Barcelona. In the past years, Juan Jose has participated in numerous group exhibitions, in addition to two solo exhibits, Juan Jose is also an entrepeneur, in charge of several companies in the city of Guatemala.

TERMS OF AGREEMENT

By submitting your images to the festival implies giving rights to La Fototeca Guatemala, to use the images for promotional purposes of the event, print, and future exhibits. Photographs wont be used for any other purposes without previous agreement of both parties. GuatePhoto will be chosing several printed images for future exhibits and to be part of a permanent collection.
Conditions de participation

Register go to the website
http://www.guatephotofestival.com