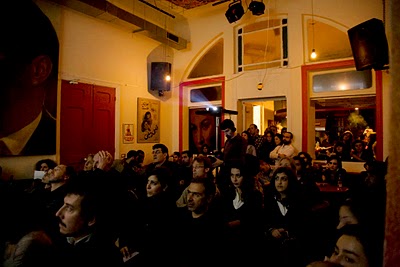 Concours du 1/2/2010 au 10/2/2010 Terminé


Selected photographers will have a chance to experience speaking about their work in public, to articulate concerns, aims and plans for their photography and to ask opinions in an open environment.
We strongly encourage feedback from the attending audience.

From now on, Photo Forum Beirut will take place every third Tuesday of the month and submissions will be open from the 1st to the 10th of every month.
Our second session will take place at Zico House on 16th February 2010 from 19.00 to 21.00.

For each session we will invite an international external selector to choose the photographers who will present and discuss their work.
Next session's selector is the Brazilian photo collective Cia de Foto.

Every month, Photo Forum Beirut invites a local or visiting host to speak about a specific issue related to photography practice.
For our second session, Ibrahim Sleiman from Paladium will open the session and talk about his work as a printer.

Ibrahim Sleiman is a technical printer based in Beirut. He is the owner of Paladium, one of Lebanon's leading photographic printing and finishing centres, he established in 1998 in Hamra. Sleiman is behind the printing and finishing of most of the photo exhibitions in Lebanon.

** Submission process **

Theme : THE CITY

Deadline to apply: from 1st to 10th February 2010

The session will benefit photographers who do not have access to regular feedback and are willing to receive specialist and peer-led critique of their work.
Please note that the session is NOT for exhibiting printed pictures; selected photographers will show their work or series related to this month theme in either slide or digital projection.
Conditions de participation

TO APPLY for the second session of Photo Forum Beirut, please follow the steps described on the website : http://photoforumbeirut.blogspot.com